Senior journalism major Drew Best is well-versed in sports media, thanks to the varied experience he has gained at UW-Whitewater, with the UW-Madison Wrestling team and even the Green Bay Packers.
Best has been passionate about sports for as long as he can remember. While other kids watched cartoons before kindergarten, he watched heated debates between the ESPN personalities on SportsCenter. 
Best's first experience with his own creation of sports media came in high school writing for his school newspaper in Oshkosh, Wisconsin. He learned the ins and outs of covering sports before eventually taking an opportunity to cover the Wisconsin wrestling team. 
Eventually, Best enrolled at Whitewater where he quickly began to hone his skills. Since his freshman year Best has been one of the most active members of the university's radio and TV stations. He has served as Sports Director for the radio station, sideline reporter for Warhawk football and this year serves as Station Manager for the radio station and co-producer of sports programming for UWW-TV.
This past summer, Best served an internship at WBAY in Green Bay, where he was thrown into the field and got a chance to cover Wisconsin's beloved Packers. This spring Best will graduate and put his skills to the test as he takes the next step in his career.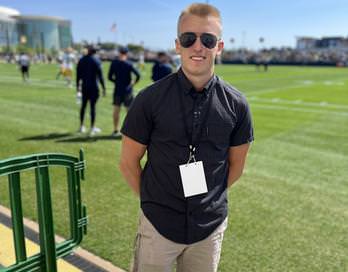 Q: What about Sports media appeals to you as a career path?
A: I love storytelling and I think that with most sports, storytelling is a huge part of it. It creates a magical feel, there are so many people overcoming stuff and everyone has their own story. The way people have learned to tell it and the way I like to tell stories is something that I want to do for the rest of my life. 
Q: Do you ever worry that making sports part of your job will ruin your passion for sports and make it less enjoyable to be a fan?
A: I have thought about the fact that once I get into sports as a career I may not go to many events as a fan anymore after that. It is a hard thing to think about, because that is what I have been doing over the course of 22 years. However I think the opportunities that I'll get will bring me closer to sports. Especially if I end up working with a specific team I can feel like a part of something bigger than myself. I can be on the inside and give perspectives to people that normally they wouldn't see.
Q: What are the most extraordinary moments you have participated in in sports media?
A: The sideline reporter stuff was a great start, because being down on the field for a lot of those games and looking up to see a packed crowd at Perkins Stadium is just a whole different environment. Once I got into my internship and covered the Packers, that was very cool. I got to go to all of their training camps, all of their OTAs, and do interviews in the locker room. I got to cover a preseason game and interview guys like Christian Watson, Rasul Douglas, and Rashan Gary. 
Q: What would you say to someone who tells you there are better ways to make money and that sports media is less important than a job such as a doctor, teacher, etc.?
A: It is whatever you are passionate about, whatever you do the money should not be a factor. You can pursue different things that have more financial gain, but I think that at least for me the opportunity to do something I love and something that I have wanted to do since I was a kid is the biggest part of why I do it. Ultimately you have to enjoy what you're doing and I think this is something that I will enjoy for the rest of my life. 
Q: Why did you choose Whitewater? Has it been a good fit for you?
A: In the beginning my original thinking started in middle school when they were winning national championships and I thought, that isn't too far from home. I applied to a lot of places and looked around but ultimately chose Whitewater, because I was planning on wrestling here. I spent a semester on the wrestling team and found out that it was too much of a time commitment with what I wanted to do in the media. I am glad I got to do it, but it was the right time for me.
Q: What factors, whether they are your characteristics or outside factors, have contributed to your success in sports media?
A: It's my communication skills, that is what has developed the most, because a lot of the beginning steps of being in sports is knowing you will have to interview people you may have been starstruck by. It is a matter of keeping it professional and keeping it relaxed so that the interviewee is comfortable. It is a game changer when you learn to make them comfortable, because that is when you get the best stuff. 
Through experience with sideline reporting, blogs, hosting radio shows, and TV producing, Best has equipped himself with an arsenal of skills that will bode well for his future. The sky is the limit for the 22-year-old media personality looking to make a name for himself in the competitive field of sports reporting.