UW-Whitewater presents "Wreckage" by Sally Stubbs, directed by Bruce Cohen. The play takes place in Vancouver, Canada, and follows Violet, a young woman who is out looking for the truth about her missing mother, Rose. After finding her mother's diary, Violet uncovers an awful truth involving chefs, gangsters and romance. The play is performed in the Hicklin Studio Theatre inside the Greenhill Center of the Arts. The show opened Friday, Oct. 6, and runs until Saturday, Oct. 14. Tickets are available in the Greenhill Center of the Arts.
"It captures the whole film noir, gangster-type feel that we think of as emblematically American but it's coming from a Canadian playwright who is steeped in that genre," said Cohen.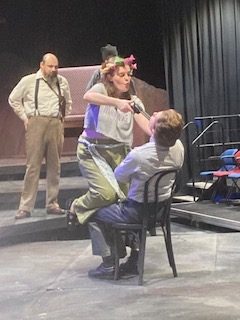 Sally Stubbs is an award-winning playwright and screenwriter who also does some acting. Stubbs studied and performed theater in Canada. She completed master's degrees in Art History and Writings at the University of Victoria in Victoria, British Columbia. Cohen has been a fan of her work, especially "Wreckage." Coen said, "I've been holding onto this one for almost 20 years now." 
What makes Whitewater's production successful is that the stage is placed in a way that makes the audience feel like they are actually experiencing the story in an uncomfortable way. They are watching a girl discover the horrible truth about her family, yet they can't leave or do anything to help her. Another aspect that works are the actors' performances. If one actor had messed up their role or did not do a good job acting, it could have made the play hard to watch. But each actor carries themselves magnificently, and it creates a perfect show for the audience.
The play has many dark themes to it which can make it hard to watch for some audience members, but unlike other plays, it plays with these dark themes in different ways. One example is the use of gangsters in the story. In most media, such as "The Godfather," gangsters are portrayed as living lavish lifestyles and do not have a care in the world. In "Wreckage," gangsters are portrayed as being pathetic. They are shown to be barely getting by and end up being at the bottom of the barrel.
If this interests you and you want to be involved in other performances, you can sign up to join theater. "Even if you aren't going to follow it as a career, it can still help boost your confidence," said Antonio Parra.
The next show will be "Much Ado About Nothing" by William Shakespeare, which will run Nov. 10-18.