The Whitewater Women's Bowling team is already off to a hot start after winning their first tournament of the season. The Warhawks are led by senior standout Rebecca Howard who is this week's winning woman.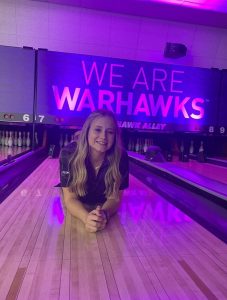 Q: How did you first get into bowling?
A: I first got into bowling in high school, which is very late compared to most college bowlers. Most have been bowling for their whole lives. I got into it after a girl who was three years older than me won state and I saw a congratulations banner for it and thought it would be cool to try out. After going to a couple open practices the girls took me in as "their freshman" and mentored me and I fell in love with it. 
Q: What made you want to come to Whitewater?
A: I came to Whitewater because it had everything I wanted. A smaller school environment, my major and the bowling program. I knew I wanted to bowl in college and Whitewater was the perfect fit for it all. 
Q: What is your favorite memory here at Whitewater?
A: My favorite memory at Whitewater was when the team traveled to Las Vegas to compete in the Intercollegiate Team Championships this last spring. We had a great time, bonding and bowling, tying for fifth and becoming even closer with each other. 
Q: What are some goals you have for yourself as a bowler this season?
A: A couple goals I have for the season are to improve my strike percentage, physical game and mental game. Bowling is 90% mental and 10% physical, which most people don't think about. I also want to have fun and enjoy my last season on the lanes. 
Q: How do you plan to achieve those goals?
A: A couple ways I plan to achieve my goals is to do individual work outside of team practices, going to outside tournaments and going to athletic personnel for mental game tips and tricks. I plan to take in all the memories and take lots of photos! 
Q: Do you have any pregame superstitions?
A: No, I wouldn't say I have any pregame superstitions. Oftentimes we goof around during the breaks between matches but get serious once our match starts. 
A: What are some tournaments or opponents you are looking forward to playing?
A: I am looking forward to our home tournament in Madison next weekend and probably our Virginia tournament in November. We haven't been to this tournament yet and we love traveling. As for opponents, I would say any team that is ranked above us in stats. When we beat them, our rankings go up significantly and it's always a fun match. 
Q: What does being a Warhawk mean to you?
A: Being a Warhawk means that you are connected to a community that stands up together. We are so passionate about what we are fighting for, whether that's academics or athletics. 
Q: If you could tell your freshman self one thing, what would it be?
A: If I could tell my freshman year self one thing, is that my hard work pays off and to keep pushing towards my goals, both on the lanes and in the classroom. I would also mention something about relaxing and taking college memories in because looking back as a senior now, it really did go by quickly. 
If you want to stay up to date with the results of the bowling team and Howard check here for more stories throughout the season. 99