There's no better way to kick off the holiday season than a visit to your local pumpkin patch. For us in Whitewater, there isn't a pumpkin patch in the community, so heading a few towns over is the plan. Schuster's Farm in Deerfield is not only a pumpkin patch, but also has a corn maze, haunted forest, sweet treats, and bonfires. When visiting Schuster's Farm, treating yourself and others for a day of fun will not only be fun but also will be supporting a cherished local business. The Schuster family has been farming in Deerfield for generations, and their commitment to providing a top-notch fall experience shines through in every aspect of their operation.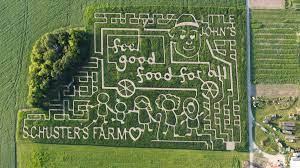 One of the main attractions of Schuster's Farm is their sprawling pumpkin patch. Acres upon acres of pumpkins await, providing the perfect canvas for your carving or painting. Whether you're looking for a small centerpiece gourd or a show-stopping pumpkin, Schuster's Farm has an abundance of options to choose from. And, as we all know, pumpkins are the gift that keeps on giving with their seeds! Once you've carved your pumpkin, don't forget to save the seeds for a salty snack.
For those seeking a bit of adventure and friendly competition, Schuster's Farm offers an incredible corn maze. Each year, they design a new, intricate maze with a unique theme. Navigating the twists and turns of the corn stalks will provide a fun challenge for all ages. Don't forget to snap a selfie from above in the observation tower for a bird's-eye view of your accomplishment.
Once the corn maze has tuckered you out, hop aboard one of Schuster's Farm's hayrides. These rides offer a peaceful journey through the stunning Wisconsin countryside, surrounded by the rich colors of autumn. It's the perfect opportunity to relax, enjoy the scenery, and capture some beautiful photos.
No fall outing is complete without indulging in seasonal treats, and Schuster's Farm has you covered. Their farm store features an array of goodies, including fresh apple cider, warm cider donuts, and caramel apples. Not only are the caramel apples hand-dipped, but they are also customizable! From crunchy nuts to colorful sprinkles, there are many topping options. Additionally, the apple cider is sourced right from the farm's own orchards and served in rustic mason jars. These treats are sure to satisfy your sweet tooth and keep you energized for more fall fun.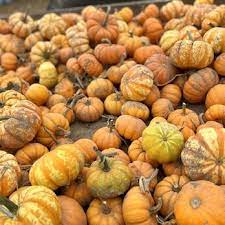 As the sun sets, Schuster's Farm transforms into haunted grounds for evening adventures. They offer flashlight nights in the corn maze, where you can explore the maze under the cover of darkness, adding an extra challenge. A haunted forest experience is also offered on Friday and Saturday nights. If a cozy bonfire sounds more your speed, the farm holds public bonfires with treats and drinks. If you've got a larger group, visit their website to reserve a private bonfire night!
Whether you're picking pumpkins, getting lost in a corn maze, or tasting delicious fall treats, Schuster's Farm is a great visit. So grab your family and friends, and head to Deerfield for a day of fall fun. But don't wait too long—it's almost time to get those pumpkins carved for Halloween! Visit Schuster's Farm, for more information on their availability and supplies!