UW-Whitewater's Crossman Gallery exhibited new artwork in their "Juried Student Art Exhibition" that was held Oct. 9 to Oct. 26. This exhibit displayed all ranges of art, such as paintings, sculptures, stuffed animals and some animation. Art was submitted then selected by regional artist and community organizer Jennifer Bastian. Artists included in this exhibit were all Whitewater students, regardless of their major or year.
"We host this 'Juried Student Art Exhibition' annually to give all UW-Whitewater students an opportunity to share their artwork, regardless of their major," said Crossman Gallery Director Ashley Dimmig. "While of course many submissions come from art majors, this is the only opportunity open to everybody to showcase their hard work. In addition to this exhibition benefitting the student artists themselves, the art that is exhibited deals with a lot of issues that I think will resonate with any student who visits the gallery, including love and joy, as well as trauma and mental health."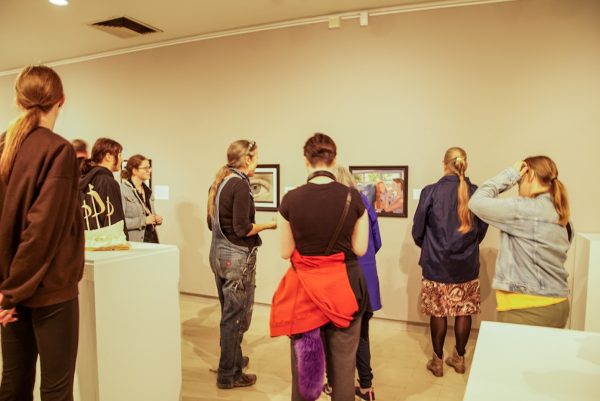 Many different forms of artwork were shown in this exhibition. Drawings and paintings were submitted, ceramics and metals were seen, and even some digital media, such as animation and pictures, were submitted. All of these artworks were submitted by Whitewater students.
After the art exhibition, a small competition was also held, which was funded by the Annette and Dale Schuh Visiting Artist Endowment. They gave prize money to first, second and third place winners, along with "Best Of" awards and honorable mentions. Carolyn Ellefson's "It Consumes Over Time" won first, April Wright's "Tranquil" and "PowWow of Spirit Dwellers" won second, and Janet Nelson's "Call of St. Buttermilk" won third. All artwork was judged by Bastian.
Along with the Annette and Dale Schuh Visiting Artist Endowment, a new "Value Award," funded by the former Dean of Arts and Communications Dr. Eileen Hayes, is given to the student who best represents the values of Whitewater. This year, Georgia Mayfield's "Rainbow Over the Kingdom" won this award, along with a $100 prize. For information on Whitewater's mission, vision and values, visit here.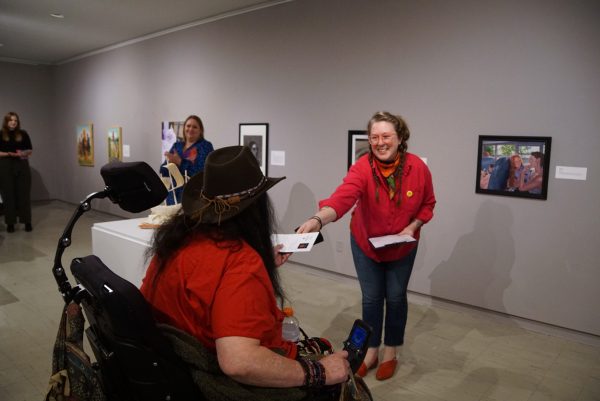 "As a criminology major, I do not often get a chance to show my artwork nor have it in a show. Seeing that Crossman Gallery was hosting a show for students in and out of the arts programs made me very happy," said Kamy Rohn, whose sculpture "Rough Waters" was featured in the exhibition. "Art has always been part of my life, and I enjoy art in all shapes and types."
Crossman Gallery hosts this "Juried Student Art Exhibition" annually and encourages all students to submit their artwork for a chance to be shown in the gallery. For more information on new exhibits coming to the Crossman Gallery, visit their Whitewater website page here.