The Down Under in the University Center and UC Live hosted comedian Ben Palmer, famous online for his trolling. He is well known for going on social media and posing as companies and restaurants such as IHOP, all to get some funny internet interactions.
Palmer's show at UC Live on Thursday, Oct. 19, meant that UW-Whitewater students got to see his variation of standup comedy. Palmer performs while he presents a slideshow with his social media interactions on screen. Mainly screenshots of his comments back and forth, but also some videos. Though not unheard of, this approach to standup comedy is not the most conventional. 
"I was doing regular standup, just telling jokes like normal, and a comedian friend of mine liked my Facebook posts that I was putting out and he thought I should do a show with them," Palmer said. "It started off with just silly images like stock photos and I'd just make fun of the stock photos. That was my first show, just like all stock photos. Shortly after that I started pretending to be corporations on Facebook and incorporating that into the show."
His activity as faking companies, and even the City of Atlanta, has left him with loads of Facebook accounts and email addresses, not to mention a few websites, all for a good laugh. His shenanigans have even landed him on the news.
The show was just one of his stops on his tour. During his show he said he had done a show earlier in the day that was far less exciting of a crowd than what the UC had.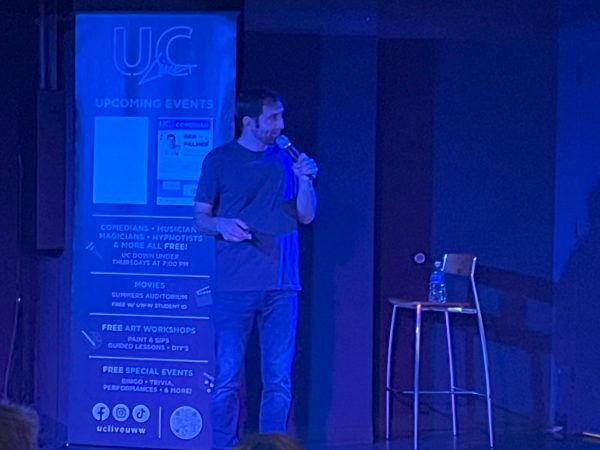 "I've always wanted to do college [shows]. I mean they make great audiences, you know. You feel cool if you can do a college, you're performing for people who are smart, well supposedly," Palmer joked. 
Those in attendance, whether they knew him or not, were treated to a good laugh.
"This whole Facebook thing was new, I haven't seen anyone do anything like that before," Trevor Haglin, a junior, said. "It was a kind of unique thing that he was doing so I thought I haven't got anything going on so I might as well come by."
In this performance Palmer shared stories that can be found on his Tik Tok and YouTube such as impersonating journalists and using fabricated quotes from company CEOs. He also showed clips of his appearances on court TV shows from when he and a comedy friend were making money from appearing on the shows as they faked suing each other.
Palmer also shared material that cannot be found online, including a story about being a fake representative from a false website which eventually led to his working with a congressperson. After eventually meeting the congressperson he was discovered and never heard from the congressperson again.
His show was part of UC Live's Thursday Night slate which will next play host to mentalist and illusionist Wayne Hoffman, who has been seen on America's Got Talent, as well as other programs. Hoffman can be seen Nov. 2 at 7 p.m. in the Down Under.