For the seventeenth consecutive season, UW-Whitewater women's tennis was crowned WIAC Conference Champions over the weekend with play Oct. 21 and Oct. 22 at Nielsen Tennis Stadium in Madison, Wisconsin. The Warhawks defeated UW-Eau Claire in overall points, finishing with 60 overall to Eau Claire's 51. After another historic end to the season, head coach Frank Barnes shared his thoughts on the team's continued success and how they are able to dominate year in and year out.
"This year was one of the most memorable ones of the seventeen. At the beginning of the year, we heard a lot of chirping from other teams that this is the year Whitewater is rolling over, but we worked really hard and had one of the most dominating finishes," Barnes said. "We only lost two matches all weekend – one yesterday and one today – and both of those were tiebreakers, so they could have gone either way. That was one of the most dominating performances ever with a team that was really gritty and made it that much more special."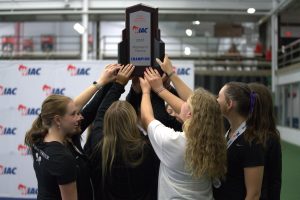 With such an impressive streak, Barnes credited the development of his players in maintaining the Warhawks dominance over the years. 
"We're always cognizant of making sure our bench players are getting enough work. When we have a year like we did last year, we lost five or six really solid players that we had to replace this year, so this was a really prime example that people on our bench were ready to step up," said Barnes.
Barnes also commented on the leadership displayed by junior Cassie Lee, sophomore Gracie Ha, and the team's two seniors in Kellie Ha and MacKenzie Lindow.
"Cassie and Gracie really stepped up all year long and added an element at the top that's needed for a championship team. Our senior leaders, Kellie Ha and MacKenzie Lindow did a great job with leading the team emotionally and building the chemistry that it takes to build a champion," Barnes said.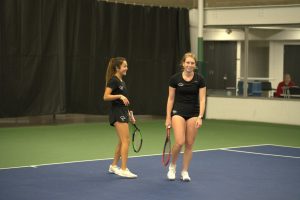 The Warhawks swept all but one of their six singles championship matches, highlighted by dominating performances from Lee winning her No. 1 Singles matchup against UW-La Crosse's Tasha Bailey in two sets, both with a final score of 6-2, and Gracie Ha beating Eau Claire's Samantha Fuchs 6-3 6-1. Senior Kellie Ha finished as the runner up in her No. 3 Singles championship, with sophomore Molly Asfeld, freshman Alex Repplier, and senior MacKenzie Lindow winning the No. 4, 5, and 6 singles championships, respectively. 
Lee and Gracie Ha took over in the No. 1 Doubles championship against La Crosse's Shelby Roth and Hannah Cady, winning 8-2. 
"Gracie and I make a really great team. Right from the start, we've had really good team chemistry and we're pretty lucky that that happened right away because I know that's not the case for everyone. Playing more matches with each other really helped and we played some of our best tennis when it was most important," Lee said.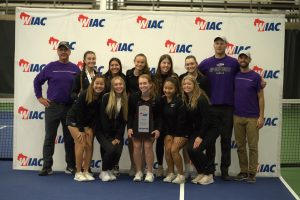 "Going into this season, I was really looking forward to playing with her (Lee). No matter if we were in a tight match or we won, it's just been so fun. I think this is the best doubles I've ever played, especially doing it with Cassie. It's even more of a blessing to be playing with her this past weekend, and we really went out and played our hearts out in the championship. I'm really proud of both of us," Gracie Ha said.
The championship win gives the Warhawks home court advantage for the WIAC Final Four AQ Tournament to determine who will receive an automatic bid to compete in the NCAA Division III Championship starting Friday, May 10. Women's tennis will resume play next spring Friday, March 1, 2024 on the road against Northern Illinois University in DeKalb, Illinois.