In the 28th annual George Chryst Memorial Bowl, the No. 5 UW-Whitewater Football team (7-1, 4-1 WIAC) put together an impressive offensive performance en route to a 45-23 win over UW-Platteville (4-4, 2-3 WIAC). This win comes a year after Platteville upset Whitewater 17-13, giving the Pioneers the Miner's Axe for the first time since 2004.
"As a team, we really underachieved in this game last season," quarterback Alec Ogden said. "It was really nice to come out and score in the first three drives, showing them we're kind of the big brother."
Whitewater immediately made an impact, with defensive back Dyson Klubertanz intercepting a Platteville pass on the first play from scrimmage, causing Perkins Stadium to erupt in excitement. Nine plays later the Warhawks struck first with an Ogden 1-yard quarterback sneak, using their own variation of the Philadelphia Eagles' "tush push."
"Our linemen love it, coach [Jace] Rindahl loves it, our staff loves it, and it's been pretty effective for us," Ogden said. "When you have some bad guys in front of you and they just want to maul dudes, it doesn't matter how they line up. We just get it."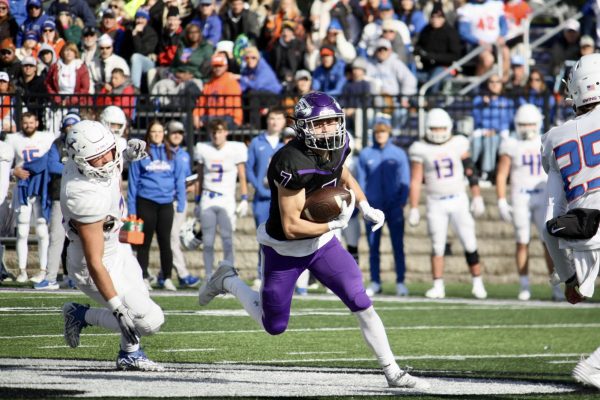 Whitewater continued this scoring trend, putting together a Tamir Thomas 3-yard rushing touchdown and a Drake Thomas 15-yard receiving touchdown on their next two drives. In these first three drives, Whitewater's total yards outweighed Platteville's 160-47.
After a slight momentum shift towards Platteville the lead was cut to 11. Freshman receiver Tyler Vasey took the momentum back with a 93 yard kickoff return for a touchdown, his first career touchdown and the first kickoff return touchdown by a Warhawk since Justin Howard in 2013.
"It feels great getting the monkey off the back," Vasey said. "Going out there and executing [the return], you got to give credit to everybody else on the field even though I was the one running it back."
A second rushing touchdown from Ogden put the Warhawks up 35-10 at halftime. Going into this game, Platteville allowed an average of 51.7 rushing yards per game on 1.6 yards per attempt, along with allowing .86 rushing touchdowns per game. Whitewater punished the Pioneers' run defense in this game, putting together 246 yards and three touchdowns on 4.8 yards per carry.
On the flip side, the Warhawks held the Pioneers to 57 rushing yards on 2.7 yards per carry, 66 and 1.5 below average, respectively.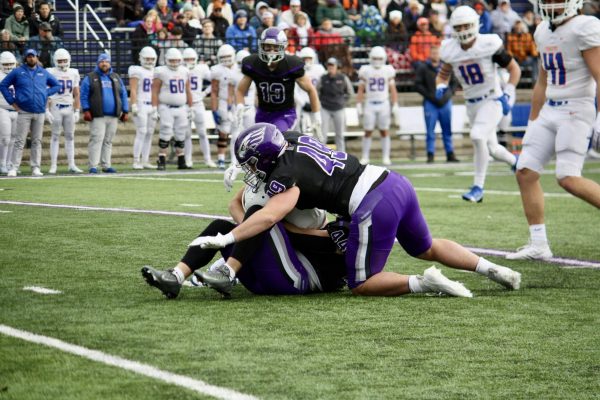 "We knew that they were physical runners and that they like to bounce the ball when they get downhill," Klubertanz said. "The d-line did a great job of making them bounce and the linebackers did a great job filling those empty gaps."
The Warhawks scored on their first drive of the second half, driving 81 yards in 11 plays, and getting Alec Ogden his tenth passing touchdown of the season on a 2-yard score to Steven Hein.
After Pioneers wide receiver Brandt Stare scored his second touchdown of the game, Whitewater followed up with a field goal of their own, extending the lead to 45-16 in the fourth quarter. From there, the Warhawks began playing their second-and-third-string guys.
"We got so many guys we can ball to," Ogden said. "We can give anybody the ball and it's great."
Platteville tagged on one more touchdown before the fourth quarter clock hit all zeros. With the win, the Warhawks improved their George Chryst Memorial Bowl record to 25-3.
"We wanted to send a message this year," Klubertanz said. "We're still Whitewater."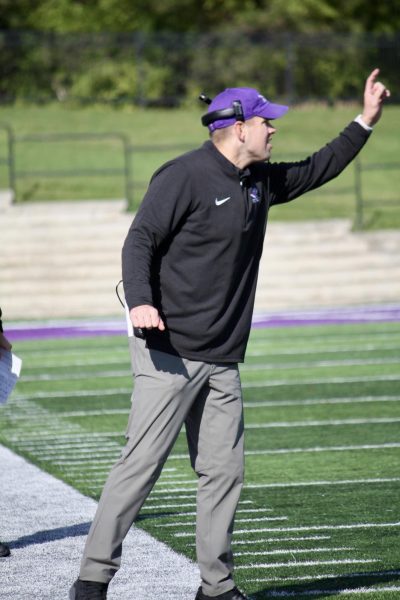 Following the game, Patty Chryst and Whitewater representatives announced the offensive and defensive players of the game. For Whitewater, Ogden won Offensive Player of the Game, and Klubertanz won Defensive Player of the Game. For Platteville, Stare won it on offense, and defensive lineman Justin Blazek won on defense.
Along with the George Chryst Memorial Bowl, this game fell on Homecoming week, and the university celebrated the UW-Whitewater Athletics Hall of Fame Class of 2023. At halftime, the university honored eight Athletics Hall of Fame inductees, Homecoming court and festivity winners.
Whitewater travels to Stevens Point to face the Pointers Nov. 4. Despite them being winless in WIAC play, the Warhawks are preparing as much as normal.
"Same thing, day-by-day, week-by-week, same nameless gray face," Ogden said. "Just a new team we get to beat up on." 
Zachary Pryblyski