UW-Whitewater Men's Basketball boasts a confident yet determined swagger under new head coach Jarod Wichser, after falling two games short of a national championship in the 2023-24 season. If Warhawk fans were looking for reasons to be excited about the basketball team, this year's group provides plenty. Wichser, named interim head coach this summer after Pat Miller announced his retirement, anticipates an exciting season with several returners and some key additions to the roster.
Sophomore guard Miles Barnstable will be returning to the program after a freshman campaign that fueled last season's success. The WIAC and WBCA Newcomer of the Year led the team in points with 16.2 points per game, and a season high 29 points on three separate occasions. Barnstable's older brother Delvin also contributed to the team's success as a transfer from Marian. As Delvin approaches his final year of eligibility with the program he and Miles will have one final season to compete side-by-side.
"It is going to be a really big year for us," Miles Barnstable said. "It means a lot since we only get two years. I love playing with him, and it has been so fun. Not to be biased, but he is my favorite teammate. I want to focus on the time I get to play with him and experience how fun this season will be."
Along with the brothers, Whitewater is bringing back the rest of last season's starting lineup. Junior forward Carter Capstran will serve another season as the team's big man after a steady season with just under 10 points per game. Senior forward Trevon Chislom is set for another big year in his fifth season with the Warhawks, after a season that earned him a selection to the All-District team. Junior guard Jameer Barker will also return for his third season with the program. 
"I am grateful to take over a talented team as opposed to the cupboards being empty," Wichser said. "The expectations are never going to change regardless of who the coach is or who the players are; it is always gonna be Warhawk basketball."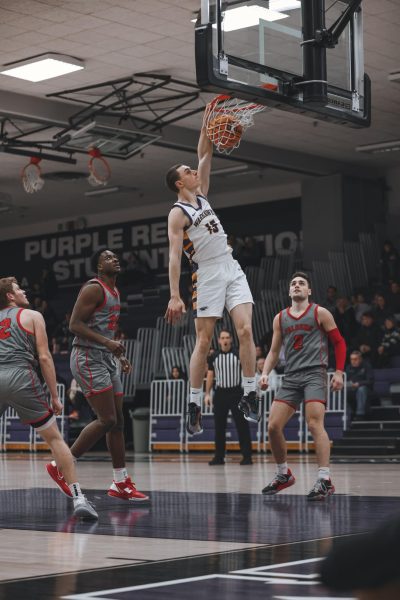 In addition to the returners on the team, 6-foot-5 Milwaukee native James Kelley joined the program as a transfer from Winona State. Coach Wichser described Kelley as a strong, athletic player and is excited to see the depth that he will provide to the Warhawks front line. In his final year of eligibility, Kelley provides a wealth of experience and knowledge from the different programs he has played with. 
"I bring a voice and experience. We have a lot of younger guys on this team and I think playing at this level, experience is a big thing," Kelley said. "Right now I am just trying to be a leader to the guys and lead by example."
The Warhawks have an abundance of talented scorers of the basketball, but Kelley offers an intensity and physicality to the team that may have been missing in the 2022-23 season. According to Kelley he understands the role he plays with his new program and is excited to follow the lead of the returners to get Whitewater to the national championship. 
"The guys were welcoming from day one," Kelley said. "We are all on the same page as far as our goals and what we want to achieve this season. They already have the blueprint of how to get there and I am just an additional puzzle piece to make things come together."
With a collection of such motivated and talented individuals it always raises concern for team chemistry and dynamic, but not with this team. Coach Wichser explained the selflessness and mentality of his team. 
"It is a very driven group and a very unselfish group," Wichser said. "We obviously had a successful season as a team, but a lot of guys had successful seasons individually as well. I have not seen anyone come back to this season thinking it is more about them or trying to get more of theirs."
The Warhawks far exceeded expectations by making it to the Final Four last year, but coach Wichser is not fully satisfied with last season's result. Wichser was excited for the growth and potential displayed last season, but now he is hungry for more and so are his players, new and old. The team has a definitive buzz and focus as they approach the season.
"We have big expectations this year, not just for us but for the whole Whitewater community and for the fans turning it back into a basketball school as it once used to be," Jameer Barker said. 
The season will begin for the Warhawks at home, Nov. 10 and 11 for the Tip-Off Classic against Gustavus Adolphus, and Saint Mary's University. The program is counting on the fans and the community to show up and support a team with a lot of potential. 
"It is going to be a year to remember honestly," Kelley said. "It is important for the fans, because we are going to need them just as much as they need us to get to where we want to go. We need them to be our sixth man from the crowd."
Warhawk basketball will have a tall task as they attempt to meet the expectations set by last season's resilient performance. Coach Wichser will attempt to put the pieces together in hopes of another shot at the national championship.