The UW-Whitewater Women's Basketball team traveled to Wisconsin's capital city, Sunday, Oct. 29 to take on the Wisconsin Badgers in an exhibition matchup at the Kohl Center. 
The Warhawks and head coach Keri Carollo fell 84-64 to the talented Division I program, but their tough play gave fans a reason to be excited for the upcoming season. Carollo explained how this valuable opportunity can help acclimate the athletes to compete at a high level.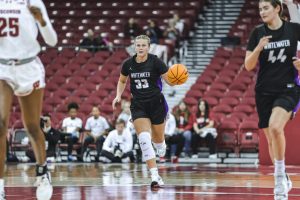 "It is a great opportunity for us to play in an environment that is a lot like the NCAA tournament," Carollo said. "It is very intense; there are a lot of people, and there is energy in the arena that is a lot like what we see in the postseason." 
Several new additions to the team displayed their skills and made their Warhawk debut in front of the crowd at the Kohl Center. Junior forward Katie Hildenbrandt stood out among the newest additions to the program. The 6-foot-2 McFarland native transferred to Whitewater from North Dakota State University, a Division I program where she played two seasons. Hildebrandt started against the Badgers and filled the stat sheet with seven points, five assists, five rebounds and a steal. 
"Katie has been a great addition. Not only her basketball skills and IQ, but she has been a great person," coach Carollo said. "She has blended well with the personality and the dynamic of our team. We are excited about her and the several dimensions to her game."
Along with Hildebrandt, ten freshmen received playing time in the exhibition matchup. The promising young crop of Warhawks combined for 18 of the team's points, which included significant minutes and a few noteworthy performances.
Mia Gillis, a 6-foot-1 forward, led the Whitewater freshmen in scoring with six points all in the first half. Gillis attended Carmel Catholic High School and played for an elite basketball program that won the Illinois state championship in 2022. Forward Maddie Andersen and guard Julia Bruch each recorded five points as well. Andersen attended Waukesha West High School, and Bruch attended Hamilton High School in Sussex, Wisconsin.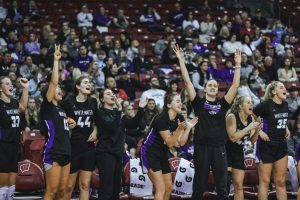 The majority of Whitewater's scoring came from a core group of returners. Fifth-year forward Aleah Grundahl, and junior guards Kacie Carollo and Maggie Trautsch combined for just under half of the Warhawks' points. 
Grundahl, Carollo and Trautsch all averaged double digital totals in points per game during the 2022-23 season. The proficient scoring from the veterans presents an interesting dynamic when it comes to making plays.
"This season is special because we have a lot of people that can make a play with the basketball in their hands," Grundahl said. "I have confidence in any of the starting five or players off the bench to make a play at the end of the game or when we need it most."
Grundahl, who earned All-American honors for the second straight year in the 2022-23 season, will play her fifth and final year with coach Carollo and the Warhawks. Grundahl has been a leading force on both sides of the ball during her career and in the past two years the addition of Keri Carollo's daughter Kacie Carollo has complimented her playstyle nicely. 
Kacie Carollo earned her first national recognition last season with an All-American honorable mention. The guard led the team in scoring with 17 points per game (No. 2 in WIAC) and was forced to step up in the postseason when Grundahl went down with a wrist injury. Carollo has been a talented scorer since her freshman season and with two years under her belt she is now one of the most experienced players on the team.
"I think my role has changed a bit, and there is more of an exterior expectation for me to score and be a leader on the court," Kacie Carollo said. "Internally, I have always told myself I need to do that anyway, so nothing changed for me mentally. I like the expectation; knowing you have to have a good night is a good feeling for me."
Maggie Trautsch will play an important role this season after a breakout campaign in 2022-23. In her first year as an everyday starter, Trautsch took a step up in her offensive production with 10.9 points per game (No. 12 in WIAC). She also displayed her ability to get hot and take over from beyond the arc. Trautsch recorded a 25 point performance against UW-La Crosse and a 21 point performance against UW-Oshkosh that included six 3-pointers. Trautsch is slated for another big role offensively and will contribute to the team's versatility. 
While there were many successes for the Warhawks to celebrate after the 2022-23 season, the team is not satisfied. Whitewater suffered a loss to Trinity College in the Sweet 16 of the NCAA tournament, but they know what they can accomplish at their best.
"It is definite motivation," coach Carollo said. "We won the conference and the conference tournament, so we had a lot to be proud of, but we were disappointed with how the season ended. We felt like we had more in the tank."
The Warhawks will travel to UW-Stevens Point for their first regular season contests in the Tip-Off Classic. They will take on Concordia College (Minnesota), Friday, Nov. 10 at 4 p.m. and St. Norbert College, Saturday, Nov. 11 at 1 p.m.