UW-Whitewater brought out the brooms on Senior Night, sweeping UW-River Falls 3-0 on Saturday, Nov. 4 at the Kris Russell Volleyball Arena. The win extended their streak against the Falcons to 15 straight games, dating back to Oct. 2, 2010, and did so in dominating fashion. Middle hitter senior Kirsten Anderson and libero graduate student Morgan Jensen, both of Sun Prairie, Wisconsin, came up big for the Warhawks and shared their thoughts on the special night for the two of them. 
"It's a culmination of everything we've done in our careers," Jensen said. "I'm super proud of all of my fellow teammates and fellow seniors and what they've accomplished… It's a really cool way to reflect on the last four years and just look back and be happy about what we've done here."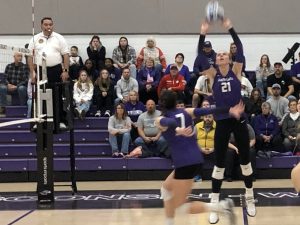 "I only technically got three years (to play), so it doesn't feel like I'm a senior. But, tonight I was really synced in… Having all the notes from my family, being honored, being talked about; it made me feel special. It was a nice night," Anderson said.
Due to the COVID-19 pandemic in 2020, Jensen's sophomore and Anderson's freshman season were canceled.  
Reflecting on the game, Jensen spoke on her key takeaways that propelled Whitewater to a fifteenth-straight win against the Falcons.
"I think we really wanted to win for our seniors. Last year we lost on Senior Night, so we really wanted to prove that when we play a team that we can continue to drive them into the ground—even after they fight back," Jensen said. "I think tonight really proved that we shouldn't let teams in and we don't let teams in when they start to fight back."
The Warhawks found themselves down in the third set 19-14, but Anderson's all around play on both ends helped rally the Warhawks back into the set, getting three blocks and one kill in the team's final five points, winning the final set 25-23.
"I just remember after that sequence of points where Hannah (Proctor) got her kill and Ally (Longden) and our defense after that… I remember being on the bench antsy to get out there and being like 'Alright, let's finish this; I'm ready. I'm not gonna be afraid of the block. I'm gonna go up, play how I play, and swing away,'" Anderson said.
Commenting on the 2022 All-American's defense, Jensen gave her thoughts on Anderson's defensive impact and leadership ability.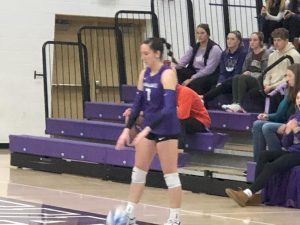 "The biggest way she leads for us is at the net, she's just a huge wall up there," Jensen said. "I feel confident as a defender behind her knowing that she's gonna do her job and I think that's one of the biggest ways she leads us—by doing her job and doing it really well."
Looking back on their time in Whitewater, Jensen and Anderson expressed their views over the last few years and what being a Warhawk has meant to them.
"I've been able to represent the university in a couple of ways and I feel an overwhelming amount of support. Whether that was from the music department or the athletic department," Jensen said. "I think being a Warhawk means being competitive. We have a really good culture of winning here. We win in almost everything we do in any single sport. I really think that being a Warhawk means being a competitor and being a winner."
"I feel like a lot of the culture here is being a student athlete," Anderson said. "Being a student athlete really comes with a lot of advantages; professors are really understanding of you. You're really able to put yourself out there being a student athlete and I feel like that's what it means to be here–really to compete and then do good in school."
In her 19th year leading the Warhawks, head coach Stacy Boudreau spoke on the team's motivation that puts them in the position to be competitive night in and night out and continuing Whitewater's tradition of winning.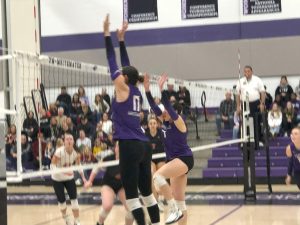 "They're motivated. They're always motivated. They choose to come to Whitewater to win championships and to step out on the court and to win—they are so motivated. Sometimes maybe too motivated and we have to pull it back a little bit, let them know that it's okay to take some focused rest, and take some reps off," Boudreau said. "We try to make sure they're healthy and make sure they're fully ready to go physically for those matches. They're absolutely self-motivated and they're ready to go. That's something that we don't have to worry about, it's just making sure that their bodies are ready to go."
Boudreau also commented on the play of her Seniors on their big night commemorating their time repping the purple and white.
"I think our seniors stepped out and played really well and did a great job tonight, so that's always special to win on Senior Night in your last regular season home game," Boudreau said. "I thought the crowd was awesome, especially in set three when we were down and I think that they were a driving force when they started getting ferocious and excited. I think our team really grew on that and fed off of it. That makes me very excited for next week and next Thursday's match—hopefully we can create a few more home matches."
The win at home was the last regular season match for the Warhawks, finishing at 24-4 overall and 6-1 in conference matchups. The win places Whitewater at 2nd in the WIAC standings, finishing behind UW-Oshkosh's stellar 33-0 campaign. 
Whitewater will look to continue its dominance at home next week heading into the WIAC Tournament on Thursday, Nov. 9 , as they will have a first round bye as the No. 2 seed. The bye automatically grants the Warhawks a place in the semifinals to go against the winner of No. 3 UW-Platteville and No. 6 River Falls on Tuesday, Nov. 7. With a 17-1 record at home on the season, the Warhawks will look to defend their WIAC conference championship title ahead of Thursday's matchup at the Kris Russell Volleyball Arena.