Tyler Vasey, a freshman wide receiver for the UW-Whitewater Football team, is in position for a successful career with the Warhawks. Vasey made his mark this season against UW-Platteville with an electrifying 93 yard kickoff return that resulted in his first career touchdown. 
After two serious injuries in high school, Vasey reignited his love for the game of football with a record-breaking senior season. The speedy 5-foot-10 native of Crystal Lake, Illinois, attended Prairie Ridge High School where he played quarterback, and was limited to just five games prior to his senior season as a result of COVID and injuries. 
Vasey was not deterred. In 14 games, Vasey rushed for 3,878 yards and 53 touchdowns, both state records for a single season. These numbers included a quarterfinal contest against Harlem High School where he ran for 481 yards and found the endzone eight times.
This season Vasey is a member of Whitewater's football program as a wide receiver and kickoff return man. If his football stats weren't convincing enough, the talented freshman also recorded a 4.0 GPA in high school and excelled in baseball as well. Vasey plans to participate on the Warhawk baseball team in the spring.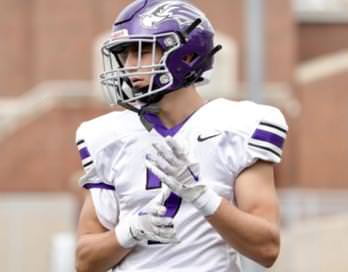 Q: What were the factors in your decision to play football in college?
A: I really decided my senior season that I was going to play after high school. I always had the idea but I did not fully commit to it until senior year. My coach talked me into it, he told me I was a good athlete and that I would succeed and have a lot of fun in college. I enjoy the competitiveness and I would have missed that. 
Q: What made Whitewater the right place for you to play?
A: When I came out to Whitewater, Coach Rindahl was very welcoming. It felt like a good place to be, not too far from home. Everything about it was welcoming and they made it seem like they genuinely wanted me to be here and for me that was the biggest factor. I was just worried about competing, winning and having fun while playing football which is what Whitewater stands for.
Q: How will you contribute to the Warhawk Football program?
A: I am going to give it my best everyday to help this program succeed. I will do whatever I need whether that is teaching other people or being taught. I know I need to do my best when the team counts on me. 
Q: What obstacles have you faced and how did they help you become a stronger player?
A: My sophomore year of high school I broke my collarbone in week three and I was out for the rest of the season. The following year I broke my elbow before my season started so I needed surgery. These injuries brought adversity into my life and showed me that nothing is guaranteed and not to take things for granted.
Q: Who on the team has helped mentor you the most and how have they helped you?
A: All of the older guys in my position group, they helped me come in and learn the new position. All of the coaches are welcoming and they help you transition into the faster paced playstyle and harder hitting environment. Jason Ceniti was also someone who helped my transition. I talked to him a lot and it didn't even have to be about football. He is great at making you feel comfortable and that is why he is captain, he doesn't treat freshmen any differently than the seniors.
Q: What makes the Warhawk Football program special?
A: Everybody loves each other, but most importantly people here want to win and everyone is kept accountable. There are points in the season when you have ups and downs and people slack off, but even if it is your best friend everyone is held accountable. That is great about this place. We are a team and a family.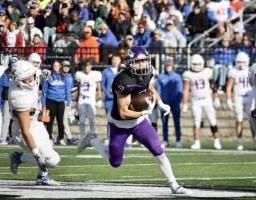 There is a potential for Vasey to play a crucial role as the Warhawks near the playoffs and begin the journey towards the national championship. While the freshman is not one of the most targeted receivers on the team, he offers depth as another potential weapon in coach Rindahl's high-powered offense.