Halloween is a big deal at UW-Whitewater. College students get to dress up like they are kids, and they go out to parties or do other fun activities while dressed up. One activity that they could have participated in was the Halloween Boo Bash event at the University's Connection Center in the University Center. This was an event hosted by UC Live, and it brought together over 100 students.
With a big turnout to this event, there were lots of different costumes that were seen. Favorite cartoon characters such as Winnie the Pooh, Scooby Doo and Mickey Mouse showed up. Characters from movies and TV shows were there, such as Spider-Man, Georgie from "IT" and Walter White from "Breaking Bad." Finally, characters from well-known video games were there, such as Chica, Bonnie and Purple Guy from "Five Nights at Freddy's," a Sim from "Sims" and Umbreon from "Pokémon."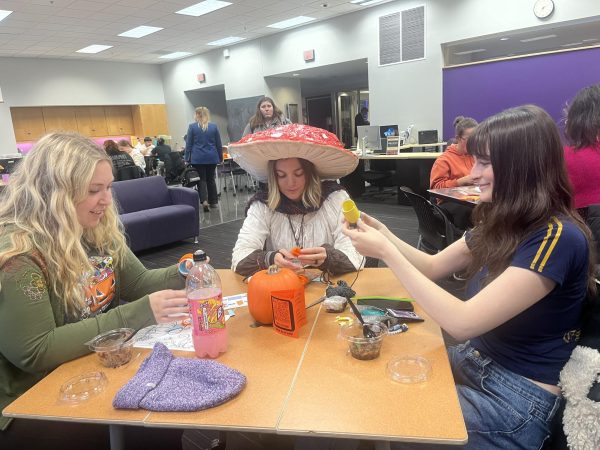 "It's a big thing right now because it allows students to have a safe place to hang out," said UC Live intern Chloe Putz. "Halloween can be a scary time, no pun intended, but it's just a very low key vibe. It gives off the elementary school Halloween party vibe, and it is just a great time to communicate with each other and not have it completely academic based."
While at the Halloween Boo Bash event, there were various activities that were offered. Besides being able to sit and hang out with friends, you could color in Halloween themed coloring pages, create mini pumpkins, spiders and ghosts out of pom-poms, or make decorations out of yarn. Along with this, students that signed-up prior to the event were treated to dirt cake cups that they could enjoy while partaking in these activities.
"I came to Halloween Boo Bash just to find something to do on Halloween," said senior Karina Pittro. "I would rather do things with my friends than go to class and go to bed. It is important to have a place for students to come together and have something to do and hang out on Halloween."
Halloween Boo Bash had a great turnout this year, giving students a place to hang out with their friends while enjoying the spirit of Halloween. UC Live brings events like these to students to let them enjoy the college experience outside of academics. They also offer a variety of events to go to, so make sure to keep an eye out on the University's website here.