This season the UW-Whitewater Women's Cross Country team had their second best finish in program history placing third in the WIAC championship meet. The first Warhawk to cross the finish line was sophomore Katie Erb with a time of 22:54.7 helping her earn All-WIAC honorable mention.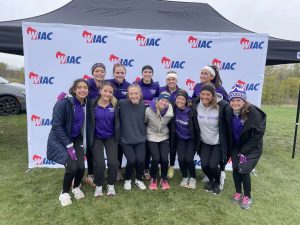 Q: What goals did you guys have this season as a team and were you guys able to achieve some of those goals?
A: We talked about being in the top three of our conference and we ended up tying for third so we did end up achieving that goal. A personal goal I had was to get under 23 minutes this season and was able to do that as well.
Q: What were some challenges you guys faced this season?
A: We had a lot of injuries this season that we had to deal with. So a lot of us went to the trainor and they were able to help us recover.
Q: What were some of the best performances you guys had this season?
A: I feel like conference was our best performance as well as our meet in Augustana. I'd say everyone performed well. We had a good attitude at those meets and that definitely impacted how we performed at those meets.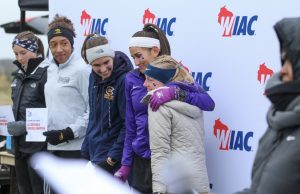 Q: How did you first get into cross country/track and field?
A: My parents are high school cross country coaches. So I've been running since I was born. I've always been around cross country and track.  
Q: What has been your favorite memory competing in cross country/track and field?
A: In high school I broke the school record for the 4×8 with my sister and some of my best friends. And then last year I got the DMR (Distance Medley Relay) school record. 
Q: Why did you choose to come to Whitewater? 
A: I really liked their communication sciences and disorders program. I want to be a speech pathologist, and I know that they have a really good program here.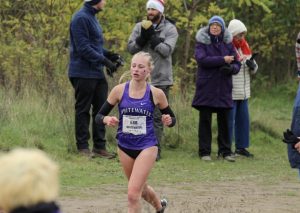 Q: Do you have any pre-race superstitions?
A: Not really, I really don't care. I always have my hair braided. But I've gone years where I haven't braided my hair before. So, I don't really have any superstitions.
Q: What is one thing you learned this season that you are going to take into other seasons?
A: I learned to like, just run my race and not like, focus on what other people want from me. Instead just like, do what I know how to do.
Q: What is your favorite thing about running? 
A: I like just being with people. It's like a stress reliever for me, and also like that I could be with people and it's a break from school and life. It's just like somewhere I can escape to.
With the cross country season ending that means that track and field season is just around the corner. Like most of the cross country team, Erb also participates in track and field. You can catch them when their indoor season begins in December.