The UW-Whitewater Football team (9-1, 6-1 WIAC) defeated UW-Eau Claire (2-8, 1-6 WIAC) 59-0 at Perkins Stadium Nov. 11. This game is the Warhawks' second straight shutout victory, coming a week after their 48-0 win over UW-Stevens Point. 
The Warhawks set several 2023 season offensive records in this matchup, including 661 total yards, 472 rushing yards, and 9.44 yards per play.
"We got a really special running back room, and our offensive line is really good," quarterback Alec Ogden said. "Our wide receiver room loves to block and make plays, but we're all just one cog in the wheel."
Thomas set the tone early with an 85-yard rushing touchdown and a 68-yard rushing touchdown on the second and third offensive plays of the game respectively, putting the Warhawks up 14-0 five minutes in. Along with three touchdowns, Thomas ran for 191 yards in this game, bringing his rushing yard season total to 992.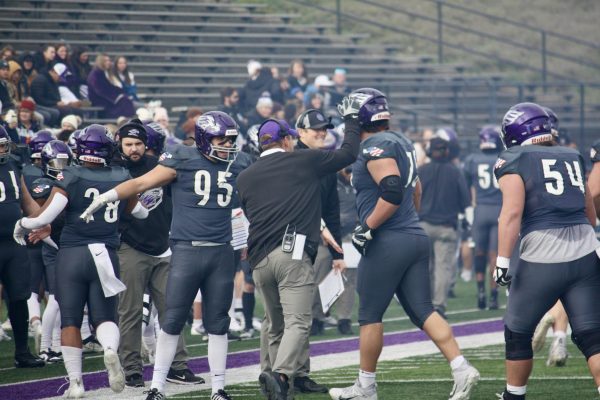 "We run those [inside run plays] like clockwork, multiple times a day," Thomas said. "Getting there and running it like it was practice makes it seem like it was something that we were attacking, but it's really not."
A quick three-and-out allowed for head coach Jace Rindahl to dig deep into the depth chart, with running backs Ammiel Jackson and Brian Stanton receiving first-quarter snaps. The Warhawk offense continued to roll with the backup players, extending their lead to 28-0 in the first, the most points scored in a quarter by Whitewater this season.
The Warhawks added 17 more points in the second quarter to extend their lead to 45-0 at halftime. A combination of phenomenal offense, stout defense and 28 different statistical contributors allowed for a dominant first-half performance.
"We have many guys we can trust," Hein said. "If someone goes down, we need someone that has next man up mentality, you just have that brotherhood and that trust with them within the group."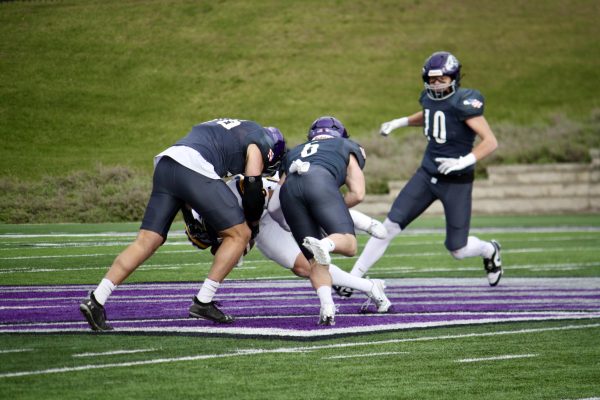 A couple of first-career touchdowns from wide receiver Patrick Lippe and running back Darrick Hill in the second half pushed Whitewater's point total to 59. With the high defensive success transitioning from string to string, the Warhawks continued their shutout until the end of the game.
With the win over the Blugolds, Whitewater strengthened their attractive resume as they entered Selection Sunday. The Warhawks finished 9-1 against the sixth hardest schedule according to the NCAA. Whitewater will host the MIAC conference champion Bethel (Minnesota) (8-2, 7-1 MIAC) in Perkins Stadium at noon Saturday in the first round of the NCAA playoffs.
"As a program, we want to compete for championships," Ogden said. "Part of the goal is to be in the dance and participate in it. It's an opportunity."
Last time around, the Warhawks devastatingly lost in the first round to Aurora University. In Rindahl's first season as head coach, the culture allows them to stray away from the abrupt exit and focus on 2023.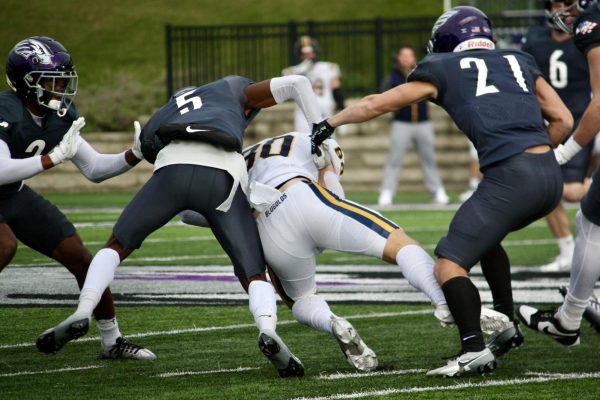 "[Coach Rindahl] played here, he's coached here forever, he's brotherhood," Hein said. "It's that culture that's instilled in him, he's pushing on us and we're running with it."
Defeating Eau Claire is only one step of the journey for the Warhawks. Suddenly, it's a new name and a gray face for whoever faces them next.
"It's a 1% building every single day," Thomas said. "It's hard to get where we are. We want to continue what we are doing so we must have the same mindset."