Around the nation there has been a craze over a little sport called pickleball. That craze has found its way into the UW-Whitewater community, which was highlighted Sunday, Nov. 12, with a pickleball club tournament in the Williams Center Kachel Fieldhouse.
You may not have heard of pickleball but it is a sport that has been around for decades. In recent years it has grown so much that a professional league and teams have formed. The professional landscape includes a Whitewater alumnus as one of its best players. The game uses a plastic ball, about the size of a baseball, and is played using paddles on a short court over a tennis net.
Here in Whitewater, the club provides a chance for students to have plenty of fun while they enjoy the game. Ben Rasey is the club president and has had the pleasure of watching the club grow since he co-founded it three years ago.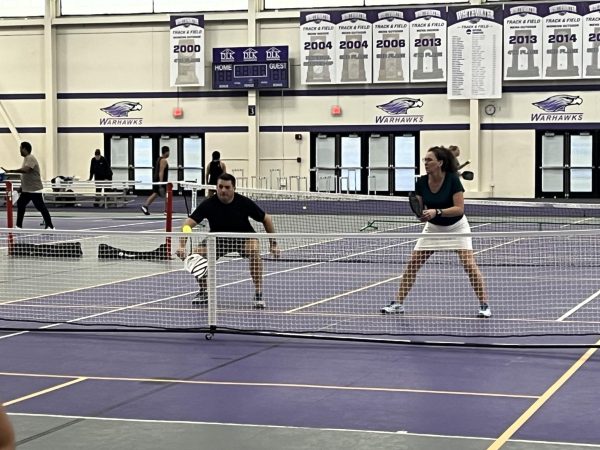 Over 100 members have attended practices and Sunday's tournament had 88 participants. Previous tournaments, which took place over two days, have had well over 100 players.
"It's a good opportunity to be in a social environment. For example we're doing an end of the year banquet, bringing in everyone's parents and players together just to shout out accomplishments and stuff," Rasey said.
Pickleball in Whitewater is not just aimed at being a place for social activity, competition has become a large part of it. According to Rasey, about 25% of the people in the club are in the competitive scene. The people who play competitively will look to prove their skills when they leave for Atlanta on Thursday to play in the national tournament. 
A team of 12 competitive players will go to Georgia for the national championship of pickleball, something that Rasey has never done before. A number of the people who are in that competitive scene come from tennis backgrounds, like Colton Thielman, one of the club's competitive players slated to go to nationals.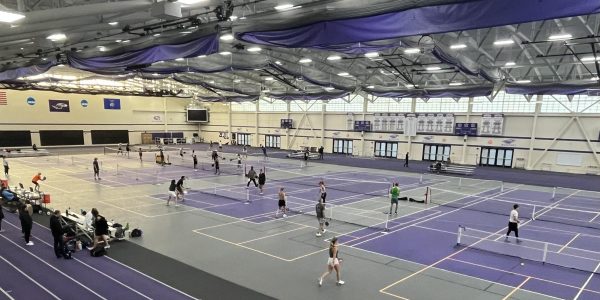 "If you're a good doubles player, doubles and pickleball just kind of go hand in hand," Thielman said.
He said that the strokes are very similar and that one of the main differences is just the size of the game; better touch is needed in pickleball. 
The pickleball club has been growing progressively since its inception a few years ago, in part thanks to support from others. The Whitewater head tennis coach Frank Barnes has contributed to the club by having lines painted on the tennis courts, buying some nets for the club and he's even incorporating a pickleball camp alongside the well known Warhawk tennis camp in the summers. 
Sunday's tournament is one of the fundraisers that the club holds in order to get new equipment, as well as to fund their upcoming trip to the national stage. The tournament was open to members of the Whitewater campus as well as the community.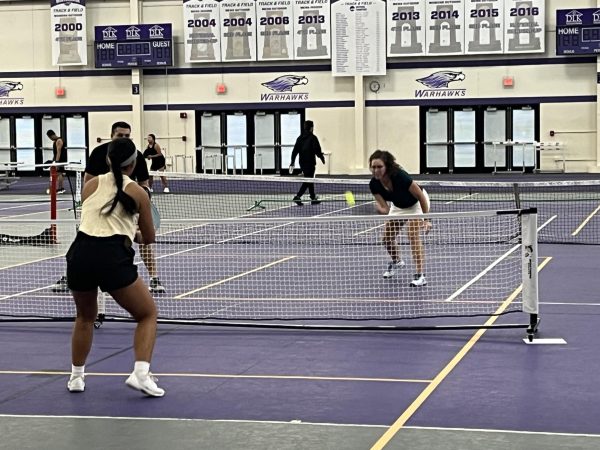 "For tournaments we open it to everybody because that's how we get the fundraising dollars, we actually give students a discount to encourage them to play in these tournaments and give them competitive opportunities," Rasey said.
The tournament has a handful of different skill levels and has mixed doubles which has teams of one man and one woman, as well as a men's division. Winners of their brackets got cash prizes while other top finishers were able to get special items for prizes.
Just like Whitewater's club, pickleball has been a massively growing sport throughout the U.S. and it's no wonder why.
"It's definitely a lot of fun," Thielman said, "going to play kind of just got me hooked right away. That's what everyone says, you play once and then you're hooked."