Every year, UW-Whitewater honors veterans through veterans week. For the 2022-23 year at UW-Whitewater, 496 students were veterans or current members of the military. This year, there are 554 students. 
This year, veterans week started with the second annual veteran's alliance bowling competition at Warhawk Alley Monday, Nov. 6. During the week, a ribbon was tied to the honor tree in the Andersen Library lobby (Hyatt Smith Hall for UW-W Rock County) as a silent way to show appreciation to those affected by past and present wars.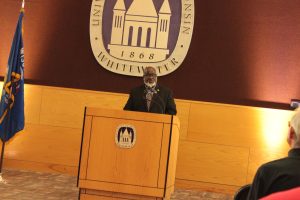 "Veteran's day is one of those days that was set aside to take a moment and reflect upon the sacrifices that these individuals have made for the security of our country," said Coordinator of Military and Veteran Student Services Kris McMenamin. "It's that one day of the year that we can all take a pause and look in our community and see the individuals who made the choice to serve the country. With that service, you give up a lot of time and agency to be able to do that. You give up time for friends and family. You don't get to make choices on where you're going to be or where you're going to be working. I believe it's very important especially in this day and age because we have veterans from all walks of life."
The annual veterans ceremony was held at the UC Old Main Ballroom Friday, Nov. 10. Students, staff, family members and the community were encouraged to attend. Prior to the start of the ceremony, Chancellor Corey King sipped coffee and ate pastries with the attendees.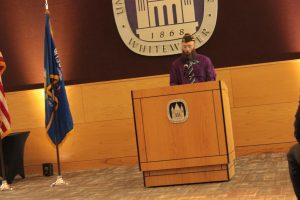 The ceremony started promptly at 11 a.m. with the UW-W ROTC Color Guard displaying the flag and the UW-W brass quintet playing the national anthem. McMenamin introduced each speaker up to the podium starting with  Student Veteran Alliance President, Mark Zimmermann. Veterans Benefits Coordinator Amy Moore was invited to read the poem "What is a Veteran?" before Chancellor Corey King gave his opening remarks.
"We all come from diverse walks of life," said King. "We all come from journeys far and near. We all have stories to tell. But today we stopped. Today we take a moment and we say to our military and our veteran community, 'we see you.' It is my hope that this one day only serves as a pathway to us seeing our veteran and military community every day. We should not just see you on a specific holiday or at a specific program or event, we should see you every day because you are a part of our community. You are a part of who we are. And most of all, you have guaranteed our way of life."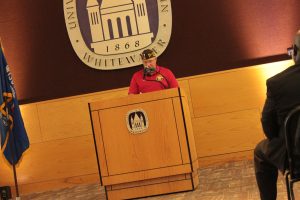 At the ceremony, guest speaker VFW Vice Commander Ty Letto, was invited to give a speech. 
"In our great state of Wisconsin, we are privileged to have a legacy of service that runs deep within our communities," said Letto. "Our Veterans are not  merely individuals who have retired from the front lines. They are the pillars of strength that continue to support and uplift our neighborhoods. As we come together today, let us shine a light on the remarkable ways our veterans are still serving here in Wisconsin. Across the state and the cities and towns, you will find veterans engaging in acts of selflessness and compassion. They volunteer their time at local shelters, mentor our youth and provide critical aid during times of crisis. Their commitment to serve doesn't waiver."
At the end of the ceremony,  McMenamin took the podium to allow the color guard to retire the colors and announced that Military Times, a print and online news publication for military bases and branches, voted UW-Whitewater as one of the best schools for veterans. 
For more information regarding military and veteran student services at UW-Whitewater and Rock County campuses, visit UWW's veterans services page.