As the UW-Whitewater Women's Volleyball team entered the weekend, they had their eyes set on one prize: winning the WIAC Volleyball Tournament. On Thursday, Whitewater hosted UW-River Falls in the first round of the tournament. 
"We were super excited. We were pumping music in our locker room because we wanted to be able to bring a lot of energy to the game," said setter Aubrie Krzus.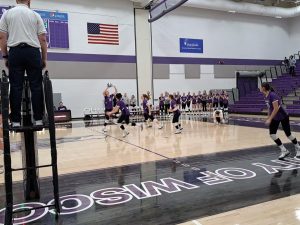 Krzus had just been named the "Kwik Trip Newcomer of the Year" that same day. 
"I was super excited but also surprised. My coaches called me today when I was at home before the game and I was so honored to have been nominated," Krzus said.
With a strong feeling of pride and teamwork, the Warhawks set forth onto the court. It was a remarkable level of energy that was brought, pushing the Warhawks to sweep the Falcons in a 3-0 score, advancing the Warhawks to then play UW-Oshkosh on the following Saturday. 
"We had just played River Falls less than a week ago so we knew well what to plan for and how to defend ourselves, and I think we executed exactly what we needed to," head coach Stacey Boudreau said. "We have played a tough schedule the entire season, so it was important for the girls to just stay comfortable and to trust each other. It's all about focusing on the next play." 
As the Warhawks traveled to Oshkosh to play in the next round of the WIAC tournament, the girls were feeling ready to play the Titans.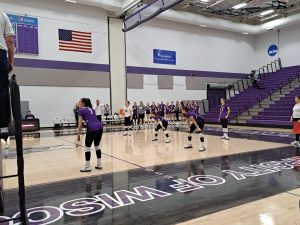 "We are really, really excited to play Oshkosh because we played them super early in the season, and now we have grown so much closer as a team so we are able to work together better and bring lots of strong energy onto the court," said Krzus.
Not only were the girls feeling ready to play, but the whole Whitewater community was ready to root the Warhawks on. 
"The goal is to win a conference championship of course! We would love to give Oshkosh their first loss of their season, since it would be a revenge win for us. Our team is hungry, and we've got some preparation to do. We are feeling pumped about the matchup," said Boudreau. 
The Warhawks set forth onto the court on Saturday and proved how ready they were to leave with a championship under their belts. They impressively swept the Titans with scores of 25-23 in the first set, 25-20 in the second, and finally 25-22 in the third.
Some highlights of the game included 13 kills from both Jenna Weinfurt, and Kirsten Anderson, which contributed to Whitewater claiming the WIAC Tournament title. 
Looking ahead, the NCAA Regional tournament is right around the corner, and the Warhawks are feeling confident with a new title and the automatic bid to the NCAA tournament. The Regional Tournament will be held November 16- November 18, location is TBD.