Relief filled the UW-Whitewater Men's Basketball team when the final buzzer sounded in Kachel Gymnasium. A competitive environment full of intensity and aggression quickly shifted into excitement for the Warhawks.
In their first matchup since 2013, the No. 2 Warhawks (3-0, 0-0 WIAC) defeated Carroll University (3-1, 0-0 CCIW) 86-77 Wednesday, Nov. 15, surviving a scare from the offensively high-powered Pioneers.
Guard Miles Barnstable led the squad in scoring with 27 points, tied for the second-highest scoring total of his career. Through quick pull-up three-point shots, off-ball screen reads, and overall offensive aggression, the 6-foot-2 sophomore was easily able to expose the Pioneer defense.
"This comes with experience playing the game," Barnstable said. "Once you get to college, you have to read everything more and understand the game. Have the game come to you."
Barnstable's efficiency came early, scoring 10 of the Warhawks first 16 points on 4/4 shooting. With the rest of the team starting 6/11, along with several aggressive defensive possessions, they forced the Pioneers to take two early timeouts after going up 24-8.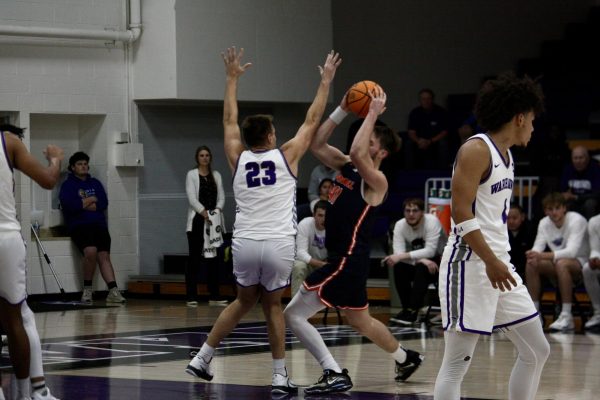 "We have long athletic wings, we have guards that are explosive, that can shoot and finish at the rim, so we have the ability to play fast and also beat people up in the half court," head coach Jarod Wichser said. "That's what makes this team tough when we're executing."
Despite the Warhawks' early offensive efforts, Carroll showed why they are statistically one of the best scoring offenses in DIII basketball. They took early foul trouble from Whitewater to their advantage and cut the lead to six by the end of the half.
"I told the team [at halftime] that we had to get back to doing what we did early on," Wichser said. "Play with great pace, get the ball inside and move it, defend at a really high level."
Carroll continued to threaten for a lead change, even pulling within one point of the lead. Several guys stepped up for the Warhawks in spite of the threat, including senior forward Trevor Chislom.
"I feel like I worked best being a leader out there," Chislom said. "I really helped the team through that rough stretch that we had towards the end. Being that vocal presence was really helpful in this game."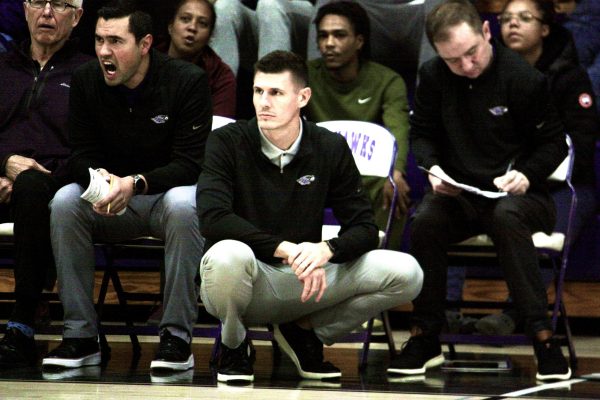 Chislom finished the contest with 22 points on 8-for-12 shooting, four rebounds and one assist. Being tied for the tallest man on the team at 6-foot-6, defending the paint was a crucial task towards success against a larger team in Carroll.
"A big thing for us is we're not trying to come off as shooters on the perimeter," Wichser said. "We're trying to make teams beat us from two, and if we're forcing their post guys to beat us with tough two-point shots, that's something we can live with."
Just as momentum was going back towards Whitewater, starting guard Jameer Barker received his second technical foul due to taunting, resulting in an ejection. He finished the game with 10 points, one rebound, two assists, one block and two steals.
"When he's [unavailable], we miss a guy who is a floor leader," Wichser said. "He's a really good on-ball defender, offensively he can score inside, and he can shoot it, so we miss a lot."
The Pioneers brought it back within one point several times after the ejection but clutch defensive stops from the Warhawks allowed them to form their first nine-point lead of the second half with 4:39 left in the game. Barnstable was a large contributor in turnovers forced, finishing the game with two blocks and three steals.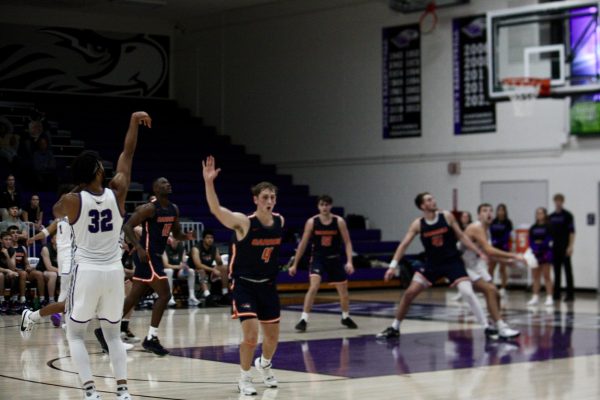 "Our defense allows me to get my hands out in the lane so they don't see as much," Barnstable said. "It's something that I've been pushing myself to do better on to help the team."
Carroll went on a quick 6-0 run before the Warhawks pulled away once more. After several Pioneer fouls envisioned the game's end, the final buzzer sounded, and the Warhawks survived a scare.
Both teams committed a combined 46 fouls in this matchup, with Whitewater pulling ahead 24-22. While a negative statistic, the Warhawks outdid the Pioneers in many other statistics, including turnovers (8-17), steals (12-3) and despite the size difference, points in the paint (40-38).
"The ball is moving, we're getting inside touches, we're engaged offensively– we are really good at those things," Wichser said. "They clearly didn't have an answer."
After surviving a second-half charge, the Warhawks moved to 3-0 overall. They are back in action at Kachel Gymnasium Nov. 21 when they take on Augustana College.
"It's just a game in the books," Chislom said. "We got to look toward the next game and really get locked in and focused."