Nearly a year ago to the date, UW-Whitewater football lost in the first round of the Division III playoffs in just their second time in program history to Aurora University, Saturday, Nov. 19, 2022. Days after the loss, long time head coach Kevin Bullis announced his retirement after 15 seasons with the team and seven leading the Warhawks. While initially named interim head coach after the fact, alumnus Jace Rindahl would be introduced as the newest head coach in Whitewater football's illustrious history. 
Now, he leads the program to their next phase after avenging last year's first round exit with a 42-14 win over the Bethel Royals to kick off the Division III playoffs. 
"It's awesome," Rindahl said. "I'm very fortunate to be in this position and be a coach to these guys. We have a great staff, great leaders, so it's special… just excited to have another week together and keep building and keep pushing forward." 
Rindahl picks up his first playoff win as head coach for the Warhawks after previously serving as the team's defensive coordinator for the past two seasons.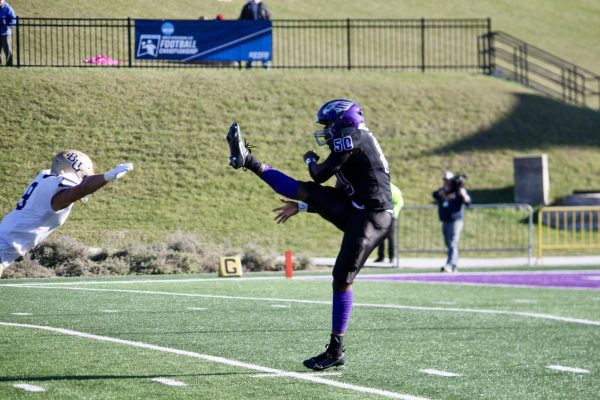 "Proud of these guys, proud of this team, the staff worked their tails off all year to earn the right to play in the playoffs… I think we got a special group here," Rindahl said. "Our message has been we got one guaranteed week, and we just earned another opportunity to have another week together. That's kind of how we're approaching this—one day at a time, one week at a time, and I want to keep being around these guys." 
Playing for Whitewater as a linebacker from 2005-2008 and winning a national championship in 2007, Rindahl's approach to the game now extends from the player's perspective to the sidelines as coach for the Warhawks in the postseason. 
"I think I've been very fortunate to have a lot of really good people around me over the years, whether as a player, as a coach and just learning to do things the right way," Rindahl said. "Learn to take care of the little things, and when you can, focus on that and details and fundamentals—that big stuff can kind of happen. Being a player, I guess I can relate to them a little bit and some of those experiences and having to play in playoff games and all that type of stuff, so I think it helps a lot. I'm just very fortunate because of the people I've been around and being able to mentor me, train me so that now I can help these guys." 
Senior quarterback Alec Ogden rained on the Royals' parade in all facets, throwing for 218 yards to go along with four touchdowns and rushing for 71 total. In the first quarter, Ogden broke loose numerous times throughout, scrambling for 34-yard and 47-yard runs.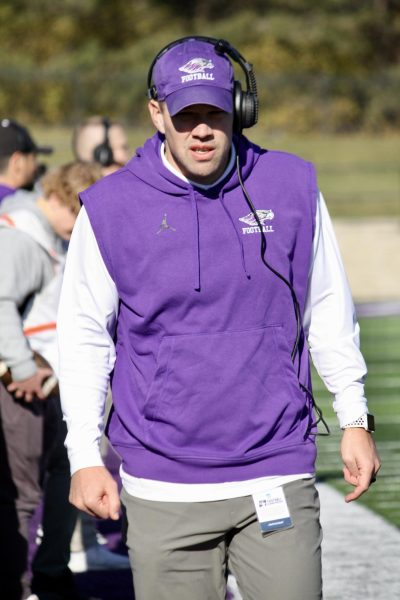 "They [Bethel] want to load boxes—throw the ball. They want to spread out and take away the pass—run the ball," Ogden said. "Coaching staff does a good job of repping stuff that we're really good at and get me out in space for passing… They're setting us up for success." 
Junior running back Tamir Thomas, a First Team All-WIAC member, picked up 156 yards total on the ground and two touchdowns as well as breaking free for a 75-yard run in the second quarter. 
"Our o-line works pretty hard during the week," Thomas said. "Credit to our coaching staff; some of the schemes we have revised really attack our strengths and our weaknesses for a couple weeks. Our o-line was able to execute which makes my job a lot easier." 
The Warhawks outscored their opponents 107-0 in the final two games of the regular season, highlighted by their win Saturday, Nov. 11 against UW-Eau Claire, 59-0. Whitewater would use that fuel to add to their offensive firepower, totaling 495 yards of offense on the day against a Bethel team coming into the game on a seven-game winning streak, their longest since 2013.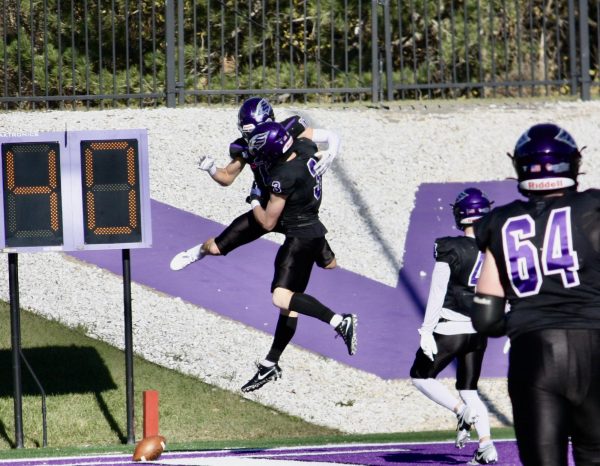 "We don't let the result distract us from what we're trying to do," Rindahl said. "The last two weeks we played inferior talented teams, so often when you do that, you can get away with maybe not doing it with the right detail or doing it the way it's supposed to be done, and we can't let that blind us from what we need to do. That was the message the last couple of weeks. Bethel was talented; they were really good. But, at the end of the day there's a right way to do it, there's a wrong way to do it, so you can't be blinded by the result. You got to make sure that we're doing it the right way." 
While the Warhawks advanced, Saturday was an emotional finish for Bethel head coach Steve Johnson, who announced his retirement following the conclusion of the 2023 season weeks prior. Johnson coached his final game after 35 seasons with the Royals, taking over in 1989 and finishing with an overall career record of 252-111-1, ranking him twelfth all-time in Division III football for total career wins. 
"I'm incredibly proud of how we grew and got over some things and settled in to play the way we wanted to play," Johnson said. "A whole bunch of things going through my head right now, but for these guys it's more than just a motto, but we want to build into one another. Being grateful, tough and devoted… It's a choice to love each other, and to build in you good stuff and then give it away, that's what our guys do. That's why I'm such a blessed coach… Today's good… I love these guys; I love what I get to do. All I feel is grateful and blessed." 
The Warhawks will square off against the Wheaton Thunder in the second round of the playoffs Saturday, Nov. 25. Wheaton went 9-1 in regular season play and eked out a tough 41-34 win over Mount St. Joseph in their first-round matchup at home. Whitewater is 4-0 all-time against Wheaton, winning their most recent matchup 31-17 on the road in the second round of the 2015 Division III playoffs.