UC Live has loads of events throughout the semester that are open to all students to attend for free. A handful of those events have been art workshops which provide students the opportunity to tap into their creativity. Tuesday night in the Warhawk Connection Center, inside the University Center, students enjoyed Clay Night. The event allowed them to show off their creative skills as they crafted their own works of pottery.
Clay Night is just one of the events that allows students to gather together and create together with the company of their friends. 
"It's for students to have fun, do something else with their friends. If they want to be artistic and creative it's really good to come out and do these events," event coordinator intern Victoria Stratton said.
According to Stratton, across two hour-long sessions well over 100 students attended the event and got to work with the clay provided by UC Live. Students were also provided with goodie bags which included paints and brushes that gave students the opportunity to paint their creations after they took their art pieces home with them.
The creations varied from regular pottery, like bowls and heart-shaped plates, to more intrinsic works which tried to capture the likes of a friend or even the female body. 
A wide range of skill levels were able to get in on the fun. Some people carried skills in the art world, people who oftentimes draw or were familiar with clay. But no matter the skill level, everyone was able to shape the night into something fun.
"I really like clay, I just never really follow through with anything because I never really know what I want to make," freshman Alexa Klingbeil said. "I don't think he's done clay since middle school though so I was like 'let's do it.'"
One of the night's goals of bringing people together certainly was successful as people were able to attend the activity with friends. Students were able to meet new people, another perk to getting out and participating in events around campus.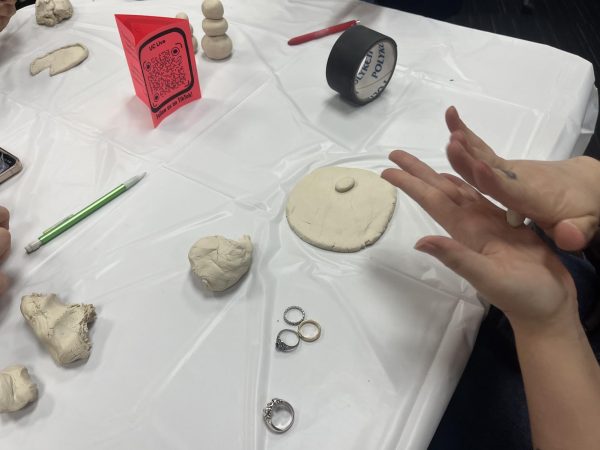 "I'd been trying to plan a clay-date with him for a while so we could make stuff. Then I saw it on Snapchat and I thought 'perfect, I don't have to spend any money,'" Klingbeil said.
The free event meant that students were able to get back in touch with their younger selves as they rediscovered clay for the first time since their days in elementary school. Part of what brought people out for the event was the intrigue in doing something new that could relax them.
"I usually don't play with clay, I usually play video games as a relaxing thing, but I thought 'why not take this opportunity to make something for my girlfriend,'" said senior Matthew Burke.
Art events like this one hosted by UC Live are just part of the ways that students at UW-Whitewater are able to get involved and spend time with their friends outside of their dorms. For information on more events like this one, whether they be art nights or comedy shows, visit the UC Live website.