Warm-hearted memories of UW-W's biggest fan
By: Zach Hicks
Lying in his bed on Milwaukee Children's Hospital's cancer floor, Shaymus Guinn turned to his father to make a request. The request was not one many would expect from an 11-year-old who was losing his fight against Ewing's Sarcoma, a rare form of bone cancer, with his days being shortly numbered.
"Shaymus' last wish was for me to promise him that I would take gifts up to the hospital for kids," Warhawks men's soccer coach Tony Guinn said. "He said that they had kids in the hospital for Christmas, and they should never go without gifts. So, I delivered 300 gifts to the hospital on Christmas Day."
Unfortunately, Shaymus succumbed to his three-year battle with Ewing's Sarcoma on Dec. 19, 2012. He passed away days before his father granted his wish, but giving gifts to sick children was not the only time Shaymus was thinking of others.
When Shaymus was in kindergarten, his elementary school principal watched from his desk as a little blond boy opened the door for his classmates coming in from recess. Another glance out the window showed that same boy still standing there with the door open, waiting until everyone from outside had entered the school.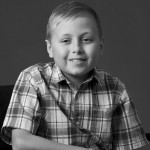 The principal told Shaymus it was okay to come inside and he need not wait for everyone. Shaymus replied that it didn't take him very much effort to hold open the door, and that he did not mind.
"He was really kind, he was really generous," Guinn said. "The last three months of Shaymus' life, he knew he was going to die. He did everything with a big smile and the smallest things made him happy."
When Shaymus' class played freeze tag, and it was Shaymus' turn to be the "freezer," he ran around the gymnasium touching each of his classmates two times. The first touch meant they must stop running and freeze, waiting to be "unfrozen" by a second touch.
Shaymus' instant second touch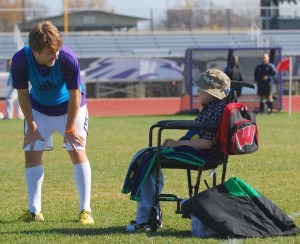 released them from their frozen doom. Shaymus understood the rules just fine, but he felt bad freezing his classmates, so he decided that freezing them and instantly unfreezing them would be much nicer of him.
The Genius
"It only happens once in a lifetime that you meet someone as special as Shaymus Guinn," athletic director Paul Plinske said. "When I spoke to him at one of our soccer games, he was physically small from chemotherapy, but that didn't steal his passion for life. I had a conversation with him like he was a peer, as if he were a 30-year-old gentleman."
Parents who are brimming with pride for their sons or daughters often proudly declare that their child is a genius. In fact, it's a word that is used so loosely today that it's easy to forget what makes a genius genuine.
Dictionary.com defines it as having an exceptional natural capacity of intellect, especially as shown in creative and original work in science, art, music, etc. The dictionary also defines a genius as a person having an extraordinarily high intelligence rating on a psychological test. Shaymus qualifies as a genius within both definitions.
"Froedert Hospital labeled Shaymus a genius," Guinn said. "There's an actual cognitive exam that [patients] have to take and he finished the exam fifteen minutes early and completed the thing and it was perfect. They said most children at his age don't even complete it, much less get a perfect score."
Besides acing an intelligence test, Shaymus had a talent that also could qualify him as a genius.
The Artist
During his battle with cancer, Shaymus' extensive time spent in the hospital led to the discovery of a talent. His impressive painting abilities have opened many eyes, including a group of art professors at UW-Whitewater.
"I took his artwork to UW-Whitewater's art department and had five professors come into the room," Guinn said. "I said, 'this is my son's artwork, he's a senior in high school, he's interested in coming to Whitewater, and I'm interested to see if you think he has any talent.' They would all say, 'that kid has a lot of talent.' Then I'd say he did that when he was ten and he's only eleven."
Shaymus' art has been on display around UW-Whitewater and also at the Museum of Contemporary Art in Chicago. Shaymus traveled to Chicago with his father to see his work on display three weeks before his death.
Junior defender Kyle Sundby was among those awed by the talent displayed in Shaymus' paintings.
"Looking at his art, you wouldn't have ever guessed it was anybody's but a professional artist—much less an 11-year-old kid," Sundby said. "His art was amazing. [The team] actually bought some of his artwork to put up in the locker room as inspiration."
Shaymus had a benefit in October where his paintings were sold. In addition to the one hanging in the locker room, other players on the team purchased pieces for themselves. Last week Friday, Guinn took two large paintings of his son's to Milwaukee Children's Hospital, where they will hang on the cancer floor.
The Warhawk
He never sat through a lecture or lived in a residence hall, but Shaymus was engrained into the UW-Whitewater community. Never was this more evident than when the Athletic Department made it official on Nov. 15, 2012. For the first time in history, the Athletic Department named a non-student athlete an Honorary Warhawk Athlete. Shaymus was cited for, "his interest in, and his support for, Warhawk Athletics."
"The Chancellor and I decided to make Shaymus Guinn the first Honorary Warhawk Athlete in history, because of how the UW-Whitewater community had gotten behind him and the passion he had for life," Dr. Plinske said.
Although he was the son of the men's soccer coach, student-athletes around campus showed their support for Shaymus.
"The entire student-athlete population bonded together to support Shaymus during this period of his life," captain and senior forward Logan Fye said. "Throughout campus, it was easy to find orange bracelets that said 'Stay Strong Shaymus', and there was always support for UW-Whitewater men's soccer, especially when Shaymus was in attendance."
The last soccer game Shaymus attended was Oct. 21, 2012 against the University of Chicago. Fye wheeled Shaymus out to midfield during the starting lineups.
"It was an experience that I will remember for the rest of my life," Fye said. "Coach Guinn had me take him out to midfield with the starters and you could see the joy on his face. When his name was announced as the 12th man, he had a huge smile and you could see that everyone was so happy to have him there."
After the University of Chicago game, Guinn and Shaymus spent the following days checking off things on a "bucket list." The list could include tasks to be completed the next day, such as visiting his grandma or seeing the penguins at the zoo. Two years prior, Shaymus had begun to check off a larger list.
The larger list included going to Ireland, San Diego, Sea World, where Shaymus swam with a dolphin, Niagara Falls, Lego Land, getting a dog and going to the Shedd Aquarium, where he pet the penguins. They did them all.
Although gone, Shaymus has undoubtedly touched the hearts of many during his short time on earth.
"I'd like to think that he made people better," Guinn said. "He made people appreciate every day. He was so brave and he never gave up. I don't think there was anyone who ever met him that wasn't changed."