By Daniel Schoettler
The Warhawks women's track and field team placed second in the Warhawk Classic on Saturday afternoon. The 'Hawks finished with 117 points in a field of eight teams, which included many nationally ranked squads.
Lexie Sondgeroth won the 60 meter dash with a time of 7.91, gaining 10 points. She also finished first in the 200 meter dash at 25.66.
In the 400 meter dash, sophomore Beth Dreikosen finished first with a time of 59.74. Kelsey Jones placed fourth, finishing at 1:00.54.
Alyssa Duncan bested her opponents in the 3,000 meter run, finishing in first for the 'Hawks with a time of 10:29.50.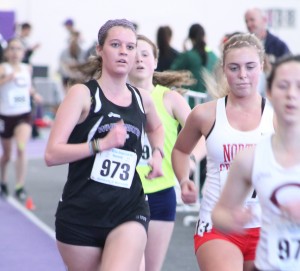 The 5,000 meter run saw senior Alysha Rendflesh finish in 11th place with a personal record of 19:59.64.
"It's nice [because] obviously you want to run well," said Senior Alysha Rendflesh. "It makes me want to look forward to racing well and racing more. It lets me know what my expectations are."
UW-Oshkosh finished in first place in the distance medley, at 11:43.46. The 'Hawks finished in second with a time of 12:54.68 led by sophomore Amanda Brom, freshman Megan Buse, sophomore Lauren Mosher and senior Jenna Bartels.
Lauren Strohmaier and JoLyn Owen finished in first and second respectively in the high jump for the 'Hawks. Strohmaier also finished first in the long jump. Melanie Pilon also broke her own school record, finishing second in the pole vault with a 12-5.5.
The 'Hawks next meet comes this Saturday at UW-Stevens Point in a WIAC quadrangular meet.