Super Bowl rumblings
Last Monday was a dark day. It wasn't because there was more snow on the ground before the sun rose, it was because it was the first day of the NFL's offseason.
It's a day that should be a national holiday. Everyone is either too worn out from their Super Bowl parties the night before or too depressed that football is finally over.
Still, the San Francisco 49ers and Baltimore Ravens put on a good show for us Sunday night, but there are two things that I took issue with.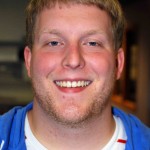 The first was that many people once again were taking to social media to slaughter Fifth Avenue's best and brightest for their supposedly poor performance. Apparently, the commercials for this Super Bowl "sucked."
As long as I can remember, people have ripped apart the overall effort of Super Bowl commercials the Monday after. I don't remember a time where the general consensus was positive.
I love to watch the commercials and thought there were some good ones this year.
The Doritos commercial with the goat for sale was funny, and I also enjoyed the cheetah Sketchers commercial and the Taco Bell commercial featuring elderly people sneaking out of an assisted living home to party all night.
However, I've come to the conclusion that many Americans love to hate them. I'm not sure why this is.
Perhaps it's America's way of rebelling against the idea of a commercial—to convince them to buy something.
Or maybe they want to sound smart—there aren't many commercial critics out there (but there are some), and maybe their day job is getting stale.
Regardless, next time someone tells me that they "love the commercials" in the days leading up to the big game, I'll take it with a grain of salt.
As for the actual football played, I was pleased.
The game was closely contested and had the suspense of the largest comeback in Super Bowl history being valiantly attempted by San Francisco.
However, as many know, the Ravens prevailed. I was cheering for the Ravens, but that doesn't matter, because at the end of the game, the MVP went to the wrong man.
Joe Flacco was not the most valuable player in Sunday night's game. Not even close. He was the best if you didn't watch the game and just read the stats. To be frank, it should have gone to one of his two wide receivers: Jacoby Jones or Anquan Boldin.
Jones caught an 86-yard touchdown pass from Flacco. Jones was wide open, and all Flacco had to do was throw.
After falling down while catching the pass, Jones creatively dodged defenders and found the end zone. He started the second half off with a 108-yard kick return for a touchdown. Jones truly ignited the game with two huge plays.
Boldin was a force, catching six passes for 104 yards and a touchdown. Boldin's routes were crisp, and when defenders would try to tackle him, he'd viciously thrust stiff arms into their facemasks. Boldin wanted this one and played like it.
It might seem odd to say that Flacco, a quarterback, shouldn't get the Super Bowl MVP and that the guys he's throwing to should.
However, Jones' kick return and huge play, which happened solely because his big time speed ran him open, were game-changing.
What was Flacco's game-changing play? There wasn't one.
Boldin might have caught passes from Flacco, but he also added over 30 yards after the catch. After he caught the ball, Boldin began to really go to work, fighting for every extra yard.
ESPN and other national media outlets will now rumble about whether or not Joe Flacco is an elite quarterback. He's not. He's not in the same way Eli Ma
nning isn't. He's good, but he's not in that top tier.
Flacco did nothing wrong Sunday night, but he didn't shine either. That's why he shouldn't have gotten the MVP.
You don't have to be elite to win a Super Bowl, but you do need to win a Super Bowl to be elite.