Album Review: "Sentimental Journey"
Emmy Rossum's "Sentimental Journey" is a good album, albeit one limited to a specific audience.
Red lips and dresses that shimmer and shine as the bootleggers serve their alcohol and the women dance for the men.  It was an era of music, fashion and wild spirits before the economic crisis of the 1930s.  Singing the songs of the "Roaring Twenties," Emmy Rossum's "Sentimental Journey" took me back to a time of great music.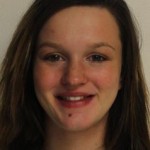 "Inside Out," her previous album, had explored electronics in music and her own relationships, but "Sentimental Journey" honors some
of the most historical and unique of songs.  All the songs on the album are covers of songs written before the 1970s.
When I heard the song "These Foolish Things," I felt as if I was sitting in the depths of a smoky bar surrounded by the chatter of wealthy men and flirtatious women.  Rossum's voice ascends over the piano and trumpets with absolute beauty.
On the Jan. 29 episode of Conan, Rossum was a guest and promoted her new album.  She said "Sentimental Journey" was, "a collection of standards of the '20s, '30s and '40s of all the songs I grew up with."
"I'm Looking Over a Four Leaf Clover," and "I'll Be With You In Apple Blossom Time," remind me of the simplicity of the time and of the music.  Rossum sings all her songs in a tone flattering to the style of music.
My favorite song is "Summer Wind," which reminds me of a cliché love scene of a man and woman dancing by the riverside.  Rossum's voice gives the aspect that the music is alive.  Her tone and pitch create a perfect harmony with the instruments any listener can appreciate.
This album is great for listeners who appreciate jazz and swing styled music.  However, "Sentimental Journey" lacks variety since it is dedicated solely to a certain style of music that has a limited audience.
I believe Rossum makes the album personal by her choice of songs and her connection with the music.  Her voice is flawless and made the album very enjoyable.
The sound of the album is historical and truly takes the listener back to a "simpler time." Due to the lack of variety and the limited audience, I gave this album 3 stars out of 5, but if you appreciate this style of music, you will not regret listening to this album.