Student entrepreneur starts Studs and Spuds
The first night junior Logan Pourchot opened the doors of his new business on Dec. 1, he didn't think anyone would show up.
"I thought, no one will be coming tonight. No one even knows about this," Pourchot said.
To his surprise, the first 45 minutes were spent serving a line of costumers from the front counter to the opposite door.
"When I saw the huge line I was like, 'Alright everyone! In the kitchen, let's go!'," Pourchot said.
This would mark the beginning of Pourchot's entrepreneurial journey managing his business, Studs and Spuds, a late-night french fry eatery.
Studs and Spuds opens its doors to customers from 11 p.m. to 2 a.m. within the Black Sheep, a local restaurant and bar at 206 W. Whitewater St. Studs and Spuds serves hand-cut french fries, using a variety of ingredients to create uniquely constructed and named dishes.
Pourchot, who has worked at the Black Sheep as a cook since May, received the OK from his boss, Tyler Sailsbury, to use a portion of the restaurant for his business. Sailsbury also acted as Pourchot's motivator and business adviser throughout the process.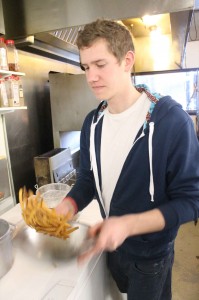 "[Sailsbury] has been supporting me all the way," Pourchot said. "He was the one that put me under his wing and coached me how to do it. He would say, 'If you don't just do it, it's never going to happen. It doesn't have to be perfect, you've just got to do it.'"
Pourchot said his idea was far from perfect the first night, not estimating the large number of customers he had to serve. His staff of friends, including junior Trevor Feltz, senior Kevin McMurtagh and junior Ethan Caughey, were learning on the fly on opening night.
"That first night was terrifying," Feltz said. "We were kind of thrown right into it."
After a few nights of trial and error, Feltz said the process became streamlined, and continues to improve.
Now Pourchot said the business has a number of loyal customers and has plans for expansion, including live music, a bigger menu and a broadened customer base.
Providing customers with a low-key, casual setting to enjoy a late night snack, Pourchot said the atmosphere is very much a part of the business.
"We try to make it as fun as possible. It's all close friends here," Feltz said.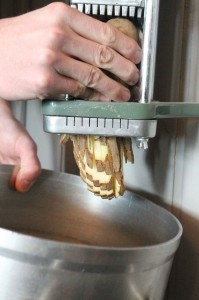 Pourchot, who just recently switched his major from entrepreneurship to English, said this experience has provided him valuable insight in running a business.
"You don't need to be an entrepreneurship major to be an entrepreneur," Pourchot said. "Entrepreneurship is more a personality than it is something you have to learn."
Pourchot said he is learning firsthand what running a business entails, including purchasing supplies, keeping receipts, finding costs and making a profit. He said actually running a business has been totally different than learning about entrepreneurship in a classroom.
"You learn more of the technical things in the classes, but you don't know what it actually is to put it into practice," Pourchot said.
Balancing classes and his business hasn't always been easy, but Pourchot said it has been worth it. It took him a while to jump into entrepreneurship, unsure of the outcome.
"I kept having all these excuses like, I'm not ready yet, I have to keep planning," Pourchot said.
Running his business wouldn't be possible without the help he receives from his staff of friends, Pourchot said. He has tried to offer them pay, but both Feltz and McMurtagh said they refuse.
"Logan is my best friend," Feltz said. "This has been something he's been really passionate about, and I just want to be the best support as I can. It's definitely been worth it."