Feature: Herum's 'dream come true'
By Andrea Sidlauskas
Most young athletes fantasize about excelling in their sport, determined to become so talented that they reach the professional level. They aspire to become role models for the future generation, while attaining the fame, glory and wealth that is associated with such a title.
They dedicate themselves to their sport, powering through vigorous practices, strenuous weightlifting sessions, endless wind sprints and hours of studying film in order to hone their skills and enhance their performance.  Unfortunately, for many, this notion remains just that: a dream.
After years of hard work, however, the dream of playing professional baseball is now within the grasp of former Warhawk Marty Herum, as he signed a free-agent contract with the Arizona Diamondbacks July 25.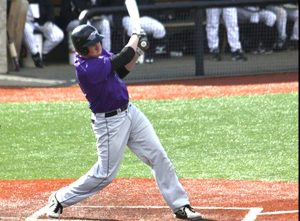 "Throughout my life, my goal has always been to get to the Major Leagues; it's been a dream of mine since I started playing," Herum said. "In high school, I was looked at by the Los Angeles Dodgers, and that's when I realized that maybe someday I really could make that dream come true."
Herum would have been a junior first baseman this season for the 'Hawks, and he has consistently been an integral component to his team's success since his debut in 2012.
"He's a great young man; he's hard working, he's a great teammate, he's unassuming," head coach John Vodenlich said. "He's the type of young man you want to coach, and it's been a privilege to coach him for three years."
Herum was named Second-Team American Baseball Coaches Association All-America Honoree his freshman year, along with First-Team ABCA All-Region, Second-Team D3baseball All-Midwest Region and Rookie of the Year.
His sophomore season brought additional success, as Herum earned 2013 D3baseball.com Division-III Second-Team All-America and Wisconsin Intercollegiate Athletic Conference Position Player of the Year for the second consecutive season.  He also led the 'Hawks in batting average, slugging percentage, at bats, runs, hits, doubles and triples, which was an imperative component to their clinch of the WIAC regular season championship and sixth consecutive appearance in the NCAA D-III tournament.
Herum acknowledges his coaches' and teammates' efforts as key factors in his personal achievements as well.
"Whitewater isn't your ordinary D-III team," he said. "The guys that play there are guys that have slipped under the radar of bigger schools, and when you have guys that are full of talent, and then a coach like Coach Vo, you're going to have one hell of a program."
After the collegiate season, Herum played with the Lakeshore Chinooks of the Northwoods Leagues and returned for his third season with the River Falls Fighting Fish of the St. Croix Valley Baseball League.
There Herum said he worked with a friend who formerly played in the minor leagues and became aware that scouts were interested in his athletic ability. The scouts attended a game in Blane, Minn., to observe Herum, who went 4-4 that night with one single, one double and two triples.
The following day, Herum said he received a call from the area scout, informing him that a team within the Arizona Diamondbacks' organization had a spot open and announced they would like him to sign and become a Diamondback.
"After talking it over with my family, I agreed to the contract they offered me," Herum said. "The next morning at 7, I was on my way to Scottsdale, Ariz."
Playing at the spring training facility on the Diamondbacks' rookie team, Herum said his experience in Arizona has been incomparable. His teammates range from 17 to 23 years old, and many of them speak little to no English, which made communication difficult but memorable nonetheless.
Herum joined the team more than halfway through the season and said he immediately began adjusting to the flow of the game, since the pitching speeds are significantly faster than the level he has seen in his D-III college career.
Even with the barriers he has had to overcome, Herum ended the 2013 season with a .268 batting average for the Diamondbacks' minor league team in 56 at bats over the course of 17 games.  He has even had the privilege of competing with Miguel Montero, Eric Chavez and Willie Bloomquist, since Major League players often return to the minors during rehabilitation.
Although he remarks that Herum's character cannot be replaced, Vodenlich is confident that the 'Hawks will encounter a player that will be able to fill Herum's shoes in the future.
"We'll have some other players that will be able to perform at a high level," he said. "One of the reasons they will be able to do that is because of the lead and example that Marty has set for them."
Herum accredits his time here at UW-Whitewater as the foundation of his success.
"Whitewater has prepared me in many ways, from the education to the athletics part," he said. "Whitewater has a ton of talent, and nothing compares to the teammates that I have made through baseball."
Senior Dylan Friend commented on the legacy Herum will leave behind as he begins his journey to the Major Leagues.
"He's the nicest guy you'll ever meet; he treats everybody like they're family, and, to be honest, he's like a celebrity around here in Whitewater," he said about his former teammate. "He works hard, and everything he's gotten in the past few months, he deserves."
In March, Herum will return to Scottsdale to begin spring training and is preparing to raise his game to the next level.
"My goal is to get to the big leagues, so I'm going to give them all I've got, and hopefully one day, what I have is enough talent to get there," he said.