Nov. 6, 2013
By Michael Riley
The Warhawks football players were not the only winners this past weekend.
Seniors Joshua Kozlowski and Veronica Havard were named the 2013 Homecoming King and Queen and honored during halftime of the Homecoming game.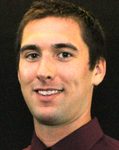 Kozlowski represented Cambridge and Fox Meadows Residence Halls, and Havard represented the Greek community.  Before shaking the hand of Chancellor Richard Telfer at the ceremony, both found out their achievement at the end of Variety Show held on Thursday night in the Young Auditorium.
The top five males and females lined up in front of the entire audience, and were asked to remain facing the crowd.  The curtain was then raised, 10 purple super hero capes hung above their heads.  On the back of two of the capes read, "King Josh" and "Queen Victoria."  After a few seconds, as the crowd began to get antsy, the group was permitted to turn around.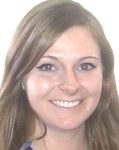 "I had to do a double take because I did not think I had won," Kozlowski said.   "I felt the odds were highly against me going against all the Greek organizations and other large orgs like AMA.  I just didn't think I had the chance to win."
Havard's entire sorority was seated in the front row, but she said no one in the crowd gave it away.  She said she did not think she had won from the reaction of sisters.
"It was definitely one of the happiest moments in my life knowing that people believe in me and all my hard work," said Havard, the former resident assistant and president of Alpha Sigma.
Despite their newfound royalty, both said they had never even been on court in high school in either prom or homecoming.
Hawk Squad member and current RA, Kozlowski said he doubted if he even could have been nominated back in high school, let alone win.
"In college, I have done a 180," Kozlowski said.  "It's senior year, and I'm living a dream I thought I never would."
The dream started when fellow RA Isabelle Eykmans decided to be Kozlowski's running mate. She said she could not think of anyone better to represent UW-Whitewater.
"When we walk from Drumlin to Hyland, at least 12 people say 'hi' to him," Eykmans said.  "Josh is just one of those people that knows everyone and genuinely cares about his friends."
Eykmans' prediction from the beginning was she would not make it far, but knew that Kozlowski could. As her name was not announced and Josh's was for the top eight at the Homecoming dance, she said she knew he had a chance.
Homecoming Court Coordinator and the 2012 Queen Megan Lynch exchanged her tiara for a purple HSC jacket this year and said the Homecoming court experience was less stressful but more sad.
"The hardest part was knowing who did not win and having to tell them," Lynch said.  "On the night of the variety show before the King and Queen were announced, I could see how nervous everyone's faces were because they all wanted it so bad.  I know how they felt, and they are all such great leaders on campus in their own way."
Lynch said the biggest differences since last year were candidates vowing campaign promises and the exclusive use of Facebook, versus the grass roots effort.
Havard made one of those promises; she said if she were to win she would create a campus-wide community service event supporting the cause "Feed My Starving Children."
"When I decided to represent Greeks, I thought that my campaign and potential victory should not be about the title but something bigger than myself," Havard said.  "Before I graduate, I want to give back to the university that I love."
She said she plans to organize the event where, on top of donations, students will be making meals scientifically created to have the most nutritious benefit for the children who receive the meals.
Kozlowski's campaign was not as assertive and time-consuming as one would expect from the winner of Homecoming King.
"We kind of just left it to our friends and peers," Kozlowski said.  "We did not really plan a full campaign.  We didn't want to be a burden, and I felt we just let people know while handing out some candy."
As the newly crowned King and Queen accepted the honor from Chancellor Telfer, both said they were honored to be representing the school but could not have done it without the support of their friends and loved ones.
"The whole experience has been very humbling," Kozlowski said. "When I was in front of the entire crowd and all those students, it finally set in that I was representing my university.  It is one of the best feelings."