Dec. 04, 2013
By Rumasa Noor
Community engagement is a great way to connect with other people and have fun by participating in different activities, but it may not always be possible for people to know about all the events that are happening.
GoStrive is a community engagement app that solves this problem by updating people with what is happening in the community. UW-Whitewater professor Choton Basu is CEO of  Slipstream L.L.C., GoStrive's parent company.
"The mission of GoStrive is to improve every community, and the way we improve every community is by connecting families, individuals to different activities, different sports," Basu said. "We want to kind of make sure that we are promoting health and wellness."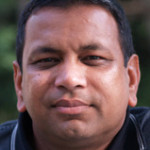 Launched on May 9, 2013, GoStrive was designed for parks and recreation agencies to make the information on their programs and events available to people through the app.
Parks and recreation agencies typically use mailing, catalogue and flyer methods to reach out to people and let them know of activities they offered, but GoStrive replaces all these methods.
Now people can learn about their community events by using GoStrive, which allows them to sign up for community programs, get maps to different locations and share everything they are doing with their friends on social media, Basu said.
Slipstream also has partnered with the National Recreation and Park Association. Basu said the agencies that are a part of NRPA get free services from Slipstream because they have small budgets.
"The idea is that we will work with whoever is doing software stuff at NRPA, and if they don't have software, we will work with them directly to get their events," Basu said.
Once an agency has registered its events, programs and classes, community members can download the free app for Apple or Android to see what is occurring near them. There is also a web version for those without access to a smartphone.
Basu said customer feedback on GoStrive has been overwhelming.
"We have got a 100 percent  (positive) response, and we haven't had anybody turn around tell us that we will not use it," Basu said.
Basu said parks and recreation employees have gotten so excited about the program, they have encourage other groups in the community to participate in the app as well.
"Now we are getting data from libraries, chamber of commerce, even health organizations are coming forward and saying that we would like to share the classes and stuff and put it on strive," Basu said. "We want community members to have to be able to go to this one app and find all the information in one place."
Slipstream is working with 117 agencies within 25 states in the U.S. and Basu said GoStrive will expand within next three to four months.
"We are starting our big expansion plans next year, so January we will open up and go after 1,000 to 2,000 agencies and start getting the data on here, so we are building up the staffing and support to do that," Basu said.
Basu said new features will be added to GoStrive by next May.
"The current features are already pretty robust," Basu said. "They take care of amazing things that people need, so it goes beyond the catalogue and make it very powerful, but we'll be adding several more features around next year," Basu said.
Basu wants GoStrive to be known as the software that came out of Wisconsin.
"We want this to be a truly Wisconsin story, so if you notice we are dealing with a lot of agencies from the Wisconsin area, there are about 900 agencies, and we would love to get as many of them and their data on GoStrive," Basu said.
GoStrive isn't all serious business, it has its fun side: if you get frustrated with the app, you can just shake your phone and it will take you to the feedback page, where you can provide your feedback regarding GoStrive.
GoStrive works throughout the United States, and Basu said it will be growing.
"We are expanding it to Canada, and we have a potential partner there, so we are looking into partnering with somebody to go into Canada," Basu said.