Sarah Bregant is not your 'common' student
UW-W senior hits links, books and local government
Jan. 29, 2014
By Alexandria Zamecnik
When Sarah Bregant came to UW-Whitewater to play golf and attend the business school, she never expected she would end up serving as the voice of the entire student population.
As a Whitewater Common Councilwoman, Bregant attends all Common Council meetings, sits on the Alcohol Licensing Committee and spends her time educating herself on everything going on in the city.
"I really like being able to be that voice for the students and showing that we don't just live here for 8 or 9 months out of the year," Bregant said. "We really have an impact. We make the city what it is."
Along with being a public official, Bregant has spent her college career playing on the women's golf team, serving as second vice-chair for College Democrats and working for the Wisconsin Innovation Service Center, all while making the Dean's List every semester.
On one of Bregant's busiest days, she wakes up to work at the Wisconsin Innovation Center, has class until 3:30 p.m., rushes to the golf course to practice from 4 to 6 p.m., leaves after practice to go to Whitewater Common Council meetings and then goes home to catch up on homework.
Jefferson County Board 
Her first step into local government happened almost by accident. When Bregant began her freshman year, her district was vacant.
A member from the Jefferson County Board came to a College Democrats meeting, where Bregant was serving as second vice-chair. She was the only one who lived in the district.
Bregant said she was hesitant to run for the position, even though it came down to her.
"I was 19, new to the area and trying to figure out college," Bregant said. "I ended up deciding to run. I figured if I just threw myself into that kind of role, then I would have to learn something from it."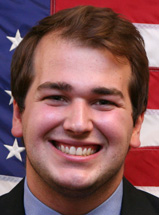 Jonathan Fera, chair of the College Democrats, said he enjoyed working with Bregant on a professional level because she is not only
reliable, but she has the intelligence to make herself credible.
"She is always looking to do more, while some college students will look to do the bare minimum," Fera said. "We pay to take 18 credits, so she will take 18 credits and make Dean's List every semester. She was so pissed when she found out she got an A- [in a class]."
Serving the Common Council 
Bregant was informed the year after running for Jefferson County Board, that a position on the Whitewater Common Council was available.
She decided to run for city council because she said she believed it would be a better experience that was closer to home. Instead of dealing with farmland preservation, she would be the voice of student concerns.
On April 2, 2013, the night of the Whitewater Common Council election results, that voice was born.
Despite the importance of the night, Bregant was not stressed out. She was running unopposed.
Instead, she watched her favorite television character, Leslie Knope, star of the NBC show Parks and Recreation, a classified as a "mockumentary" based on the workings of small town government.
Bregant, in true 'Knope'ish fashion, celebrated her newly appointed Common Council position with victory waffles, Knope's favorite food.
UW-Whitewater alumna and fellow councilwoman Stephanie Abbott, helped Bregant with the transition into her new position.
"When I first met her all I could think about is how she's the only person in Whitewater who really understands what my life is like," Abbott said.  "I have so much respect for her as a leader, and I know what that takes out of a person, to do that at 20 years old."
Abbott admits that even though she and Sarah fall on opposite ends of the   political spectrum, she would still work on her political campaign.
Under-par, over-achieving
During the fall semester, Bregant dedicates two hours a day to golf practice. The team spends Friday, Saturday and Sunday traveling for golf tournaments.
To train herself for golf, Bregant spends all summer practicing her putting and chipping skills.
"Golf is more fun for me, and I'm not super competitive," Bregant said. "The camaraderie that comes along with being on the team is something that is important to me. A lot of my closest friends are on the golf team."
Bregant placed eighth at the WIAC Championship in 2012. She set a personal record, breaking 80 for the first time.
Along with receiving a conference medal, Bregant received the All-American Scholar Award. The award recognizes student-athletes who excel in the classroom, as well as on the golf course.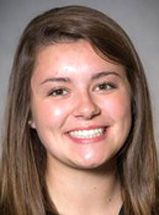 Kate Winkler, a junior and varsity golfer at UW-Whitewater, has been golfing and rooming with Bregant since her freshman year.
"She is always busy, so I just try to take advantage of the time I do have with her, which is usually on the golf course," Winkler said. "Sometimes she might get a little too in over her head, but somehow she makes it all work."
The future is bright
After graduation, Bregant plans on going to graduate school. She wants to pursue a career in urban and regional planning.
"Not to sound like an Emmy acceptance speech, but I owe all of the people that have been supporting me over the years," Bregant said. "Sometimes it gets tough, but it's their support that means everything to me."