Feb. 12, 2014
By Emma Cunninghham
After more than a year's worth of fundraising, the Whitewater Police Department finally reached its financial goal of $45,000 and will soon bring on its newest member, a Labrador retriever.
The first ever K-9 unit will be used throughout the Whitewater community for detection of controlled substances during traffic stops and in schools and businesses searching for people, such as a lost child, or to track fleeing suspects and finally to educate about illegal drugs in the community, according to the K-9 unit's website.
"When the members of the department said this is a tool that we need, I saw that the city budget would not allow it, so to me, the logical step was go reach out and ask people to support our program," said Jan Bilgen, President of the Whitewater Police and Fire Commission.
"Students really rallied and answered the call. Many student organizations did fundraisers or donated money, and overall the campus really responded well."
Even with all of the fundraising done throughout campus and within community businesses, the K-9 committee was still approximately $12,000 shy of the financial goal when it received a generous donation check from Stan Kass of Milwaukee.
Kass supports several police K-9 units throughout Wisconsin.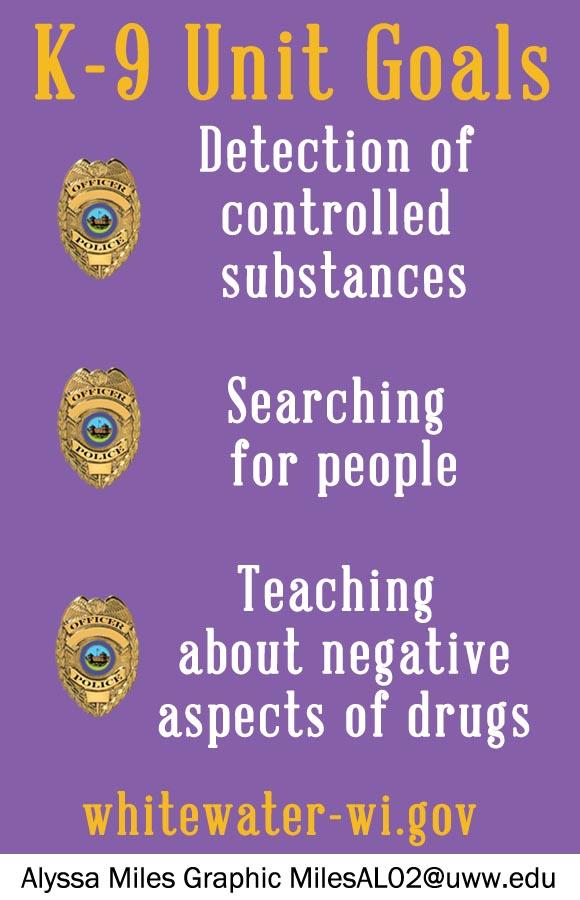 "We couldn't have accomplished this undertaking without the collective and generous support that was given by so many dedicated partners," Whitewater Chief of Police Lisa Otterbacher said during the Feb. 4 Whitewater Common Council Meeting.
The canine and its new handler will be trained through a two-week course at Steinig Tal Kennels in Campbellsport, Wis.
"The specially designed K-9 squad will be
ordered and should arrive shortly after the canine and handler have returned from training," Otterbacher said.
Once the canine and handler have completed their rigorous training, a formal introduction will take place for the community.
The Whitewater Police Department plans to hold annual fundraisers for training and equipment in order to continue the K-9 program.
The Second Annual K-9 Run/Walk, where owners can compete and run with their dog, will take place June 8.
"This dog is another helper and helpers protect us and do the best that they can. It's just a furry helper," Bilgen said. "I think the dog will be used to show that Whitewater is a well-protected place."