Polar Plunge makes a splash
Feb. 19, 2014
By Michael Riley
The last words by UW-Whitewater Police Chief Matthew Keiderlen before he jumped into a pool of 18,000 gallons of frigid water on Feb. 15 were jokingly, "Someone is going to get fired."
Keiderlen, along with more than 300 community members and UW-Whitewater students, raised $53,000 for the Special Olympics of Wisconsin by taking part in the Whitewater Polar Plunge.  The event took place at Cravath Lakefront Park.
The staff of UW-Whitewater Police Services approached Keiderlen a few months ago about taking the jump for charity.
"UW-Whitewater police department has supported Special Olympics for quite awhile," Keiderlen said.  "We always have been very involved, and we know they are a phenomenal organization.  It seemed like a great idea. Why not?"
Companies and businesses can ask their boss to take the jump, where they raise a minimum of $2,500.  Keiderlen and his staff raised more than $4,000.
As plungers jumped in the nine-degree water, the Walworth County Dive Team was in diving suits ready to assist participants if something went wrong.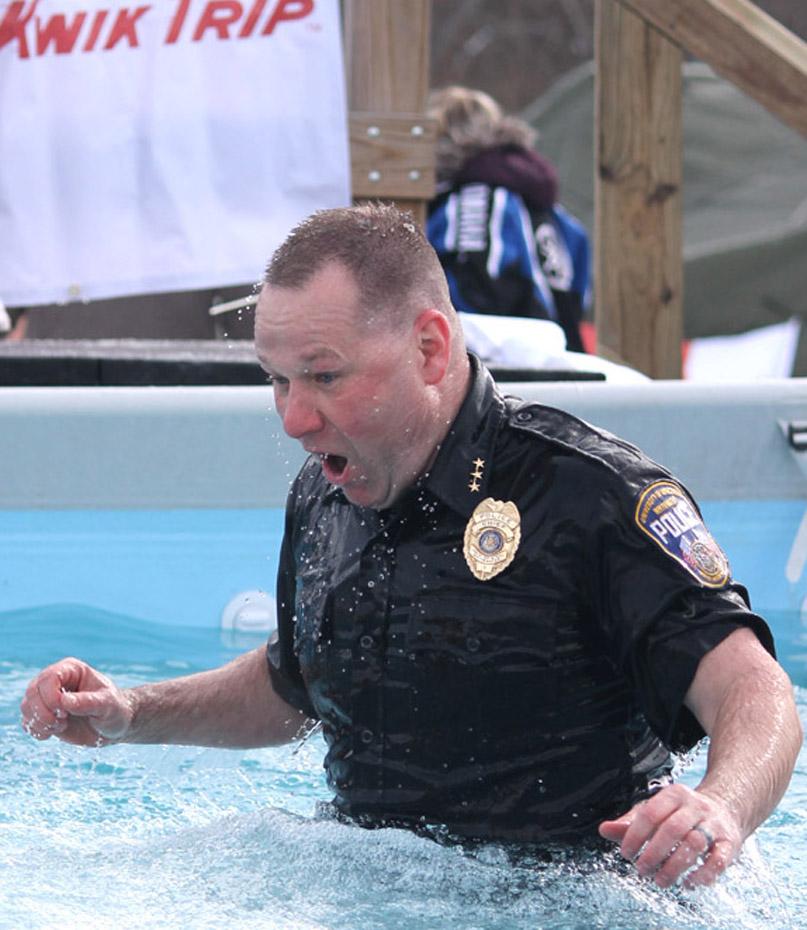 To get the full experience, plungers are asked to "fully submerge themselves in the water," according to the Polar Plunge webstie.
Brittany Neukirchen, southeastern regional director of development of the Special Olympics Wisconsin, said even though Whitewater is the not the size of Kenosha or Greenbay, the amount of funds raised is about the same.
"Keiderlen makes the event," Neukirchen said. "It is an exciting and great opportunity for UW-W police that we have such a great partnership to benefit Special Olympics."
The statewide event raises more than $2 million, which funds tournaments and travel expenses for athletes to go to events nationally and internationally.
Every participant had to raise $75 to take the plunge and receive an official Polar Plunge T-shirt.  People who didn't want to plunge registered as "Too Chicken to Plunge" and fundraised similarly for the Special Olympics.
The UW-Whitewater involvement is vital in the success of the event.  Students help through volunteering, marketing and
fundraising, Neukirchen said.
The Student Athlete Advisory Committee, UW-W Dance Company, Warhawk Fitness & Aquatics and Psychology Club all had teams.
The UW-W Greek Community also formed teams, including Delta Zeta, Pi Kappa Alpha and Sig Tau Gamma.
Bret Skaer, who jumped for the "Freezing for Freud" team, made up of members of the Psychology Club, said the best part of the jump was that money went to a great cause at the end of the day.
Even though his team had a goal of $100, it raised $507, which made him incredibly proud, Skaer said.
"I might do a backflip," Skaer said before his jump.  "It is going to really really cold.  My first reaction will be to get out as fast as I can."
Skaer, along with the rest of the Psychology Club, took the plunge and quickly rushed to find warmth.
"There was no way I was going to do a back flip," Skaer said while shivering and soaking.  "I did stay underwater for an extra second to really get the full effect."
Keiderlen, Whitewater Police Chief Lisa Otterbacher and Associate Director of the Williams Center Therese Kennedy were judges for the event rating plungers on best individual costume, team costume, individual plunge and team plunge.