Feature: Warhawks sports' No. 1 super-fan
April 9, 2014
By Emma Cunningham
You've seen him in the weight room while athletes are working out. You've seen him downtown on Saturday nights, and you've seen him in the stands at the games. If there is any Warhawk that truly bleeds purple, it is Tom Lange.
Born and raised in Watertown, Wis., Lange moved to Whitewater in the fall of 1970 to pursue his master's degree in finance. During his college years, his love for UW-Whitewater athletics sky-rocketed.
"I got to know a few football players and started hanging out with them, going to their parties and eventually started to go to their practices where Coach Perkins would put me to work," Lange said.
"He'd have me do some timing segments with the team, and then somewhere along the way I began to do some announcing for the games," Lange said, explaining how he was a former announcer for baseball coach, John Vodenlich, during his playing years.
"So I guess my involvement with the athletics just sort of grew from there," Lange said.
Lange focuses his involvement with the Warkhawks football and baseball teams. He travels with them to whatever town or state they're playing in that week and attends all games, practices and weight room sessions, decked out in his purple gear.
"Both the football and baseball teams try to pressure me to tell them what their favorite sport is, so I tell them football is my favorite sport in the fall and baseball is my favorite sport in the spring," Lange said.
Either way, the football and baseball teams acknowledge Tommy as one of their own teammates.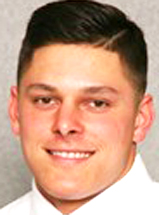 "I would say Tommy is absolutely the biggest Warhawk fan there is," said Dylan Morang, sophomore defensive back for the football team.
"He comes out to every practice whether it's spring ball, fall camp or the regular season, and even in the freezing cold he greeted us at every corner of our National Championship parade," Morang said.
Students and faculty who see Lange around the Williams Center are quick to say hello to his familiar face, ask him how he's doing, and whether he's attending an upcoming game or if he will be in the downtown area later that night to celebrate the victories.
Lange will respond with, "That's a stupid question. What else would I be doing?"
Lange stressed his favorite thing about being so committed to the teams is most of the players are playing specifically because they love the game.
"They're not playing because they're getting paid or because they think they'll eventually make it to the NFL or MLB; they're doing it because they like it," Lange said. "I really enjoy that."
Earlier last week, Lange was asked to do an interview with the Royal Purple but suffered from a fall which led to having surgery on his hand.
Even during the stress and pain, he made phone calls to let the Royal Purple know that he was unable to make his interview and would try to reschedule for a different time.
"He genuinely cares about every person on the team and knows us all by name, and he's truly one of us and part of our football team," Morang said.
Lange said Warhawk sports keeps him feeling younger than what his age tells him how he should feel.
"Sometimes I forget I'm 77 years old because everyone makes me feel like one of the boys or players, but after I had my fall last week, I won't forget anymore," Lange said.
"But I've met so many wonderful people being involved the way that I am, and I will still always say that they keep me young," Lange said.