Matt Behrendt – RP Male Athlete of the Year – Tradition sets up success
May 7, 2014
By Justin St. Peter
Matt Behrendt was a varsity wide receiver at Class 5A Nazareth Academy in La Grange Park, Ill.
The Roadrunners' starting quarterback was struggling. Behrendt was the backup and was inserted into the lineup with two games left in the season and started his entire senior year.
UW-Whitewater saw enough from his highlight tape to invite him to campus.
"I came here and fell in love with the place — all the facilities, the whole coaching staff, the tradition that we have here," Behrendt said. "It really just got me."
Two national championships later, Behrendt is the Royal Purple Male Athlete of the Year.
Behrendt was the third-string quarterback his freshman year behind Lee Brekke and current Carolina Panthers backup Matt Blanchard.
"I learned a lot from him [Blanchard]," Behrendt said. "It was a great experience to go 15-0 and win the national championship."
After Blanchard graduated, Behrendt moved up on the depth chart. Brekke led the team to a 5-1 start to the season before matching up against the undefeated UW-Oshkosh Titans.
The 'Hawks spotted the Titans a 21-0 lead before Behrendt entered the game in the second quarter. He went 18-31 for 272 yards and two touchdowns, but the Warhawks lost, 28-13.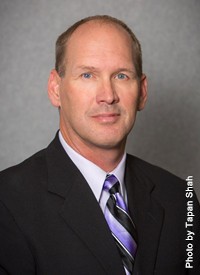 "We were playing a great football team, and we needed a spark," head coach Lance Leipold said. "Matt [Behrendt] played well. There was a couple throws that I know he wanted back in that game, but he battled through, made some things happen and never looked back on the job."
Behrendt became the starter and led the 'Hawks to a 2-1 record the rest of the year.
Behrendt, now going into his senior year, said having an offseason where he knew that he was going to be the starter really helped him prepare for this past season.
The numbers backed up that statement, as Behrendt was 302-460 for 3,290 yards with 40 touchdowns and only one interception.
"For a quarterback to go through 15 ball games and only throw one interception shows that he is making great decisions," Leipold said.
The 'Hawks won the WIAC title and breezed through the first two rounds of the playoffs before being tested against Linfield College.
The 'Hawks were facing a 17-0 deficit with 12:55 remaining in the second quarter before Behrendt threw four touchdowns, three to junior wide receiver Jake Kumerow, to win, 28-17.
Kumerow, who also was in the running for this award, had a great season himself with 77 catches for 1,331 yards and 17 touchdowns.
"He is my best friend on the team," Behrendt said. "We have a great connection on and off the field. I know what he is thinking, and he knows what I am thinking."
After beating Mary-Hardin Baylor, 16-15, in the national semifinal, the 'Hawks played familiar foe Mount Union. Gagliardi trophy [an award representing excellence on and off the field] winner Kevin Burke, Mount Union's quarterback, was ready to make it a shootout, but the 'Hawks had other ideas.
Behrendt said his favorite play of the season was the first touchdown to Kumerow in the national championship to give the 'Hawks an early 7-0 lead.
The Warhawks dominated the game to win the national championship, 52-14.
"When you look at Burke's body of work, he had an excellent year," Leipold said. "I will never say he didn't deserve it [the Gagliardi trophy]. Was Matt Behrendt the best quarterback on that Friday night? I think he was in that particular game."
Behrendt was 111-162 for 1,214 yards with 14 touchdowns in the five postseason games.
Following offseason foot surgery to heal a bad case of turf toe that limited his mobility last season, Behrendt is rehabbing and preparing to lead the 'Hawks on another trip to Salem, Va.
"If we can have a healthy Matt Behrendt that can create some things with his feet again, it's really going to be an added weapon to our offense," Leipold said.
An added weapon to a championship winning squad? A healthy Behrendt will give many defensive coordinators nightmares.