Trick-or-treating knows no age limitation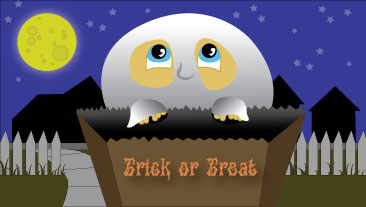 Oct. 29 2014
It's that time of year again. Pumpkins are being carved. Candy corn has filled the store's shelves. Children are begging their parents for the most expensive costumes to wear for trick-or-treating.
Halloween is here.
When the night of the 31st arrives, kids of all ages will be galloping from house to house, holding out their Halloween-themed bags in expectation for a mouthful of cavities (brought on by candy).
College students, however, might have different plans.
Or maybe they won't.
There's no law that states the maximum age someone should be to go out trick-or-treating, but society has conformed us into thinking the activity is childish; anyone out of elementary school should put that behavior behind them to do better things. A time eventually comes when we are the ones handing out the candy we spend our hard-earned cash on.
And it's usually the second or third bag since we insist on buying candy a month ahead of time and "accidentally" eat it all.
So, how old is "too old" to go trick-or-treating?
Around 35 million children in the United States between five and 13-years-old go trick-or-treating every year, according to the stats on todayifoundout.com. This makes up 90 percent of all children in that age group.
The rest of us either hand out candy to these eager kids, attend Halloween parties, or just keep to ourselves. But our childhood days don't have to be behind us.
In an article on alphamom.com, a parenting website, a mother spoke of the weird looks she got when she mentioned her 12-year-old son was disappointed he couldn't go trick-or-treating because of scheduling conflicts. Apparently, other parents believed a boy his age was "too old" to be engaging in that Halloween tradition.
Twelve. A 12-year-old was looked down upon for dressing up in a funky outfit and traversing the neighborhood.
So, if someone in their 20s is trick-or-treating, that would obviously get even weirder looks.
When it comes to enjoying yourself, there is no age limit.
If you don't care about the scowls and upturned noses you might receive on Halloween night when you appear on someone's doorsteps, then all power to you. Go and embrace your inner child.
But, if you want an ounce of your dignity intact, you might want to try a different method.
College students still can enjoy the pleasure that comes from the one night when getting candy from strangers is okay. Sometimes we just have to find ways to make it "ok."
Some of us are lucky in having younger siblings or cousins we can "chaperone" as an excuse to go trick-or-treating. No one is going to look at you funny if you have a pack of hyper kids bouncing at your feet.
When you don't have that opportunity, however, you have to find other methods. It's probably frowned upon to latch onto some random group of children for the night.
Programs such as Big Brothers Big Sisters offer opportunities for people our age to take kids trick-or-treating. Not only will you get the chance to trick-or-treat without condescending glowers, but you'll be volunteering for a cause that'll help you sleep better at night.
It's really a win-win situation.
If trick-or-treating is something you enjoy, then don't miss out on the opportunity to get free candy. As college students, we probably put it to more use anyway with our low budgets.
Accompany a relative or volunteer for an organization if you are uncomfortable with the arched brows you might receive.
Just don't let anyone else dictate how you should spend your time. Halloween is meant to be fun for everyone.
And fun doesn't have an age limit.