Go for a spin
Feb. 25, 2015
By Amber Levenhagen
[dropcap]W[/dropcap]hen participating in a ride along with the University of Wisconsin-Whitewater Police Services (UWWPS), the only thing off limits is the room that holds evidence. From taking a tour of the station, to riding in a squad car; participating in a ride along offers students and citizens opportunites to learn in an interactive way about the services the University Police offers.
"I'm sure a lot of people leave and are blown away by the kind of stuff we do," said Officer Dan Kuehl, who is one of the officers who leads ride alongs.
Thursday, Friday and Saturday are nights that are available because those are busier nights and are more staffed, which provide better opportunities for a ride along.
This is not only offered to those interested in pursuing criminal justice as a career. Students and other community members are offered the opportunity to participate.
If someone is interested in pursuing law enforcement as a career, a ride along is an opportunity to interact with officers and learn outside of a classroom about what the job entails.
"It's an awesome way to show that department that one, you are really interested in law enforcement and two, that you are interested in their police department," Kuehl said. "It shows that you're taking interest."
A ride along is a great way to learn outside of the classroom because riders have the option of asking any questions they have to someone who is working directly in the field they are interested in pursuing.
Most of the participants are interested in becoming a police officer or getting involved in law enforcement, but others find a ride along useful, according to Kuehl.
"We have students that come for class projects, to find something interesting to do around campus," Kuehl said. "If you're not planning to be a police officer and just want to tag along and see what it is we do, that's totally fine."
He added that sometimes people in the community will participate with the city police just because they are looking for something to do and they want to see more about how the police system works.
Campus Service Officers (or CSO's) work directly with campus police. They handle some of the calls that come in, although strictly service calls. Examples of this include jump starting cars or unlocking doors.
The extremely cold weather this week led to a greater number of calls for jump starting cars, Kuehl said.
For more information about CSO's, or if interested in becoming a CSO, refer to the University Police website for an application. Otherwise, stop at the University Police Services on the first floor in Goodhue for more information.
Besides the ride along feature, the police department offers other services and programs to help teach students and citizens. Some of these include a CPR class and a shots fired program.
"I go through some warning signs and scenarios, like what to do if you hear something that sounds like a gunshot," Kuehl said. "We want to make sure we're prepared for anything that could happen."
Another service that the university police offer is help for when a car runs out of gas. They will fill up a one gallon gas can, for free, and make sure the person stuck is able to get to a gas station.
The police department also offers a gun locker for weapon storage. Students can turn over their weapons, free of charge, to be stored in a safe location.
"It's great for students because during the fall semester, a lot of people go hunting," Keuhl said about the storage locker. "This saves them the time from having to drive back home to get their equipment. It's safe and convenient."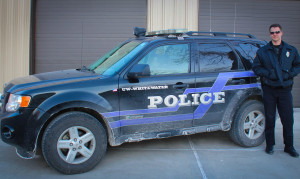 All of these services are free of charge from the police department. However, people get charged for their mistakes.
An example of a fee for a mistake is the Alcohol Diversion Program, or ADP. If someone is arrested for underage drinking, they could be referred by an officer to the ADP. The person would pay an administration fee and take the course, to help learn their lesson about the effects of underage drinking.
Another example of this is a traffic referral. Similar to the ADP, it's a course offered once and for first time offenders. There's a fee, and an online test to relearn about safe driving.
Something that became immediately apparent during the ride along is that campus officers strive to protect students and the community. By offering these programs, it's less expensive than a citation and provides the opportunity to truly learn about why the laws are in place.
Kuehl talked a little bit more about underage drinking and drinking in general.
"If someone is in a potentially life threatening situation, we are not going to come down on you for being a good person and seeking help."
Sgt. Matt Schwartz added to this thought:
"Most students think we're just here to issue citations and make arrests, but really there's a whole lot of services we provide that other law enforcement agencies wouldn't."
"Between the students we employ and our full time staff, there's a lot that we do that somebody from the outside wouldn't consider law enforcement duties but is something we consider important to the campus, so that's why we do [them]," Schwartz said.
Participating in a ride along with the police department allows participants to learn more about these services and see firsthand what the police department offers for students and community members.
To sign up, simply send an email to Sgt. Schwartz at [email protected] expressing interest in participating in a ride along and provide availability. Keep in mind that nights fill up fast, so it's important to email ahead of time in order to secure the desired evening.