21 and Over: Drinking Holidays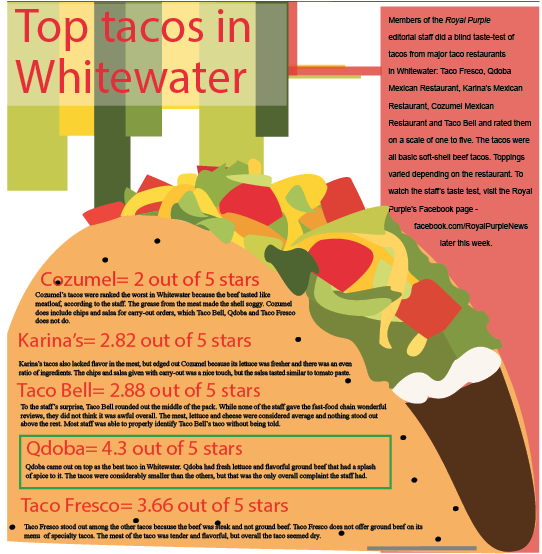 Hang on for a minute...we're trying to find some more stories you might like.
By Jordan Moser
Oct. 14, 2015
In addition to beer pong, flip cup and the shotski, the concept of the drinking holiday is one of the notable accomplishments college students can take credit in establishing.
Freshmen move-in day is the first celebrated drinking holiday of the academic year. From the sighting of the first U-Haul, upperclassmen are ready to welcome the incoming freshmen and their families to Whitewater. Booming party music and incomprehensible chatter can be heard throughout the city and when the sun sets, Whitewater's downtown comes to life for an end to a full day of partying and drinking.
Every year on the first weekend in October, the city of La Crosse hosts its annual Oktoberfest celebration approximately three hours from Whitewater. The combination of the festival grounds, house parties and the bar scene provide a comfortable atmosphere for the 21 and older crowd, no matter which setting you prefer. The German theme makes the entire festival well worth the journey.
On Oct. 31 this year, our community is fortunate to enjoy homecoming and Halloween on the same day. Spirits are bound to be high as the UW- Whitewater football team takes on UW- Eau Claire at 1 p.m.  After the game, the city will likely be crawling with drunken ghouls and goblins migrating from one party to the next. With the combination of the two occasions, this year's homecoming has potential to be memorable.
Also on this date, the city of Madison hosts Freakfest, an annual Halloween celebration held on State Street. For the tenth anniversary of Freakfest, Timeflies will be performing along with 14 other musical acts throughout the night. Halloween night should be one of the more eventful nights of the year for the area's 21 and older crowd.
After the self-explanatory New Year's Eve festivities, the next big Whitewater drinking holiday comes in March: St. Patrick's Day. Many Whitewater bars open before sunrise on St. Patrick's Day and stay open all day and night. There is only one day a year dedicated to embracing your inner Irish, so students enjoy a couple of green beers, Irish Car Bombs and a day of overindulgence on March 17.
A relatively new tradition in Whitewater takes place one month after St. Patrick's Day and has been growing in popularity ever since its inception in 2013. Whitewater's Spring Splash is a one-day event that takes place in April, and comes at the perfect time for students of legal drinking age to let loose one last time before it's time to buckle down for finals. Many houses host parties exclusive to individuals 21 years or older to ensure a safe and legal party atmosphere. After you have enjoyed a copious amount of fun in the sun, head to the Whitewater bars downtown to keep the party going.
Rounding out the list of notable drinking holidays in Wisconsin is the annual Mifflin Street block party in Madison. This event usually takes place around finals week of the spring semester. If you are confident you have studied enough, it definitely deserves a place on your agenda.
In Wisconsin, it's quite obvious that we do not require a special occasion to enjoy a few drinks, but indulging with your Warhawk family makes partying twice as fun.
Please drink responsibly.