Trump's campaign demonstrates "red flags"
April 5, 2016
Donald Trump's TV makeup might paint him orange, but the warning flags I got from his Janesville rally were red.
It took his campaign five days to get Royal Purple Photo Editor Amber Levenhagen and I our press credentials. His rally started with a notice telling a thousand adoring supporters to watch for protesters inside the rally because it was a "private" event paid for by Trump.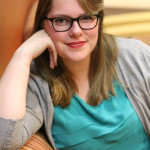 Then he blatantly told his audience to "just trust him" to get things done, implying that they don't need to know how he's going to get things done. He just is.
Trump's lack of transparency in the presidential primary makes me very concerned for the future of political reporters.
Transparency for the media equals transparency for the people we serve, whether we're reporting at a local level or to the nation. In our information-fueled society, it's unacceptable to employ the lack of transparency Trump's rally suggested.
The first red flag came in the days leading up to the rally. Our application for media credentials was left pending for five days. It took passive-aggressive emails and a call to Trump's campaign office to get them approved. Had we done nothing, Levenhagen and I would have had to do our reporting from the crowd instead of the media press box –  a much higher liability for the two of us, considering the equipment we brought along.
We were the only college students in the press box – which is unacceptable, considering our main objective as student journalists is to inform a large population of first-time voters. There were other college journalists there, and they had to report from the audience after waiting in lines for hours to get in.
For Sen. Ted Cruz's and Sen. Bernie Sanders' rallies, i was recognized as press immediately. For Gov. John Kasich's rally, I just walked in and set up my equipment. Nobody even checked to see if I was press.
Do these comparisons matter? Absolutely. The rest of these candidates were all able to have some transparency with the media as to how they'd accomplish their platform.
The second red flag came after Trump kept us waiting for an hour. Trump officials announced to the crowd their responsibility to alert the candidate to protesters inside the rally, seeing as it was a "private event, paid for by Trump."
Yet again I found myself pondering the idea that an event to which the public was invited, is in fact, not a public event.
Not only was Trump advocating for his supporters to turn on the people next to them, but the fact that he sees his campaign as a private investment means we're likely to not see a lot of cooperation with the media from a Trump presidency.
And then there's Trump's comments on how he's going to get things done in Washington. Not only is he going to tell other countries what to do (like a CEO instead of a president), but he's asking his supporters to blindly follow him and believe he'll accomplish his pipe dream of a wall and abortion punishments.
You wouldn't trust an architect to build a skyscraper without blueprints, a movie crew to work without a storyboard or a chef to cook without a recipe.
I don't trust him to be open with journalists or the American people. Voting him into office will lead to more distrust in the government. Building walls between the government and the people won't cost billions, but it will cost the GOP voters.
I understand by the time you read this, you'll have already voted in the primary election, and I can't do anything to change your vote.
However, I hope come November, you'll think critically about who you voted for. If you voted for one of the other candidates in either party, you likely voted for another four years of open conversation between the White House and journalists.
If you voted for Trump, you voted for the censorship of information and your own knowledge.