Follow passions, do your own thing in college
April 12, 2016
College is the time to figure out who you are and where you hope to go in life. In the time it takes to earn a degree, students are able to take away some incredibly important life lessons.
It's the little tips and life hacks we're told along the way that really stick. For me, the greatest tip of all came on day one.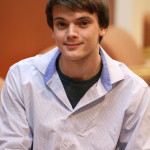 A comedian performed at the 2014 Warhawk Welcome, and he had the most solid life advice I've ever heard: "Do your thing."
Although it's painfully simple, that's as true as it gets. If you do what makes you happy, you can't really go wrong. Unless the thing that makes you happy is stealing lollipops from babies; then you're probably just a sick individual. But I digress.
Be determined to do what you're passionate about. Set goals in life, dream about what you'd like to achieve or where you'd like to go.
Extracurricular groups and activities are a great way to get more involved on your career path. Being involved in a sport, club or student organization offers a different sort of learning than classroom settings.
Being involved with the Royal Purple has been an extremely rewarding experience, and I'm looking forward to the next two years I'll spend at the RP. I feel my news writing skills have improved greatly, which has improved my novel writing as well.
Furthermore, the friendships I've made at the RP have helped me grow as an individual, and I believe I owe my success in finding an internship as a sophomore to the firm, good-hearted guidance of my colleagues and advisor at the newspaper.
Another great way to get more involved is to seek out your own projects to strive towards, like starting a business, writing a book or joining a band. The sky is not the limit; don't set a limit to stop yourself. Keep going, and continue to do what makes you happy.
Personally, I've found novel-writing and short-film creations to be my biggest passions. But there's no rule saying you can only have one or two passions.
For some, it can take a little while to figure out what their greatest passions are, but no matter how long it takes, it is never too late.
Prior to coming to UW-Whitewater, I was a part-time student at UW-Rock County during my senior year of high school. I remember an instructor asking us every day, "What are your passions, and what are you doing to pursue them today?"
This felt so incredibly repetitive and tedious at the time, but it's an amazing piece of advice that has stuck with me. It's actually a pretty   solid concept: recognize what gives you a sense of purpose, and determine what you need to do to achieve it.
Some people find passion in creating music, and I've met several people before and during college who aspire to create rap music for a living. And every time, I've heard people say, "That's sad. It'll never work. This is pathetic." This is disappointing to me. If someone has a dream to create music, who can say with 100 percent certainty they won't succeed?
The beautiful thing is, if they're doing what makes them happy, then there is no way they can fail. Sure, they might not become famous, but that does not mean they failed, not at all. If it makes them happy, then it doesn't matter how well they do commercially.
I want to pass on my own life lesson for others. Here's a lesson which I hope might resonate with someone: Do what makes you happy, follow your dreams and never let anyone convince you that you can't. You can achieve your dreams through hard work, and as long as you are happy, you have succeeded.
College isn't just about learning how to perform well in a career field, it's also about discovering yourself and becoming more aware of why you chose that career field in the first place: Hopefully, it's because it makes you happy.