Whitewater man murdered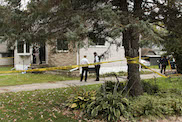 An early-morning gunshot on  Oct. 25 on the 900 block of Peck Street in Whitewater resulted in a first-degree intentional homicide charge for a 31-year-old Whitewater man.
Alan M. Johnson confessed to murdering Kenneth J. Myszkewicz, 43, in Myszkewicz's Whitewater home early Tuesday morning  Johnson, now charged with a Class A felony charge, is brother to Myszkewicz's wife Kimberly.
City of Whitewater Police and Rescue Squad responded to a 9-1-1 call from the residence at 2:22 a.m. for a report of a man who hit his head after falling and was bleeding, according to the official criminal complaint.
Kimberly A. Myszkewicz called police after hearing a "thud noise," which lead her to believe her husband had fallen down the stairs. Upon getting out of bed to check on him, she says she heard the patio door at the rear of the house close.
When officers arrived, they witnessed a .40 caliber shell cartridge case before approaching Myszkewicz, who was found to have a gunshot wound in his arm and chest and gunpowder burns around a wound on his back. Medical examiner Dr. Amy Sheil and county coroner pronounced Myszkewicz dead at 10:02 a.m. that day.
Squad cars and a Crime Scene Investigation unit lined the 900 block of Peck Street throughout the day as the investigation was ongoing.
A news release from the City of Whitewater asked Whitewater residents to avoid the area throughout the investigation, noting a lack of danger to city residents.
"Based on the preliminary information, we have no reason to believe that there is a threat to the general public at this time," Police Chief Lisa Otterbacher said in the news release.
Johnson was met with three times over the day of Oct. 25, where the first two times he denied having any knowledge of how Myszkewicz died, according to the official criminal complaint. The third time, Johnson and Kimberly's father Eric, a retired police officer, called the City of Whitewater Police back to his Rock County residence.
"Arrest me, I killed him," Johnson said.
Following Johnson's admission of guilt, it was learned by City of Whitewater Police that Johnson had planned to take of his father Eric's .40 caliber handgun and kill Myszkewicz, and then commit suicide, the official criminal complaint states.
Diane Donohoo, assistant district attorney for Walworth County, set Johnson's bond at $750,000 cash, after arguing the bond should be set at $1 million. Defense attorney Francis Raff argued down the bond, saying the felony charge alone should not be set so high and that Johnson was essentially being held without bail, the Janesville Gazette reported.
If convicted, the felony charge would result in life imprisonment.
Johnson's next court appearance is set for 1:15 p.m. on Nov. 4.
                                             — Kimberly Wethal