College Works program draws mixed feelings
UW-W doesn't endorse company's recruitment methods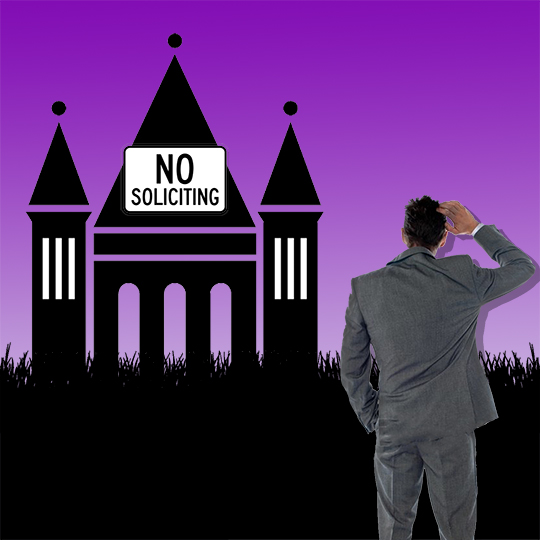 When it comes to College Works, a company that seeks student interns to manage teams to paint houses through summer programs, those whom have been involved in any capacity have mixed feelings.
The Royal Purple spoke with several individuals in hopes of gathering various sources' opinions on the company.
Overall, we learned that College Works is not for everyone. Many students have filed complaints regarding the company's on-campus recruiting practices and some individuals have found the summer internship program to be a life-changing experience.
College Works banned from UW-W campus

Career & Leadership Development (C&LD) stopped providing campus services to College Works in 2014, after receiving more than 25 complaints from students regarding the company's recruitment practices.
The complaints alleged that representatives of College Works had asked some students to leave interviews before they were concluded, which left many students feeling discouraged about finding internship opportunities.
While The Royal Purple has not independently verified these complaints, director of C&LD, Ron Buchholz, provided further explanation as to why representatives from College Works are not entitled to the same on-campus resources as other companies.
"We're not intending to stop [the company from recruiting students], but we don't want to endorse it," Buchholz said.
College Works is barred from utilizing University Center facilities and distributing promotional materials and resources to students.
"We said, 'OK, we're done with this,'" Buchholz said. "The company was very aggressive with students, and it seemed kind of irregular."
Buchholz added that seeing students being interviewed in crowded areas is a "huge red flag."
C&LD asked College Works about its recruiting practices and requested that the company stop removing students from interviews prematurely. The company did not comply with C&LD's request, Buchholz said.
C&LD does not have the resources to monitor classrooms or public areas, such as the UC, a popular location for College Works representatives to interview students.
But from time to time, professors will reach out to Buchholz to report they declined representatives of College Works from speaking in their classes, and sometimes Buchholz himself has noticed students still being interviewed in the UC, despite College Works having been asked not to do so.
Although the company has a rocky relationship with C&LD over allegations of indecent interviewing practices, some students might benefit from the internship, Buchholz said.
"We're not saying it's a horrible company," Buchholz said. "You could probably make some big bucks if you hustle, but not anything like what they're saying you will."
Finding the correct internship opportunity depends on the individual, and C&LD encourages students to evaluate multiple options before making a decision.
"Not everyone who works for College Works is bad," Buchholz said. "And not all companies will be a good fit for everyone."
Company offers potential for some students to succeed
Senior Sam Kratcha learned of College Works from a close friend who was involved in the summer internship program.
"It was a very positive experience," Kratcha said. "I made really good money, learned how to do a lot of things I never knew how to do, like managing, selling products, and it gave me a good work ethic too."
Kratcha managed three job sites while employed through the College Works program. He said the experience led him to change his major from management to entrepreneurship.
Kratcha said he was named National Intern of the Year during his sophomore year in college.
"For my guys I hired, they were mostly people I went to high school with," Kratcha said. "They were very hard working. I trusted them to get things done, because I couldn't be everywhere at once."
Kratcha said working for College Works was not easy, but it offered him valuable experience towards a career in sales. He added that employers prefer to see applicants include sales numbers on their resume, to show that the applicant has previously succeeded in a sales role.
As far as concerns regarding recruitment methods goes, Kratcha acknowledged that students has been removed from interviews up until 2014, when C&LD asked them to discontinue that practice.
"From what I've heard, they [College Works] were trying to switch that and not do it," Kratcha said. "I don't think they've done that for a few years now."
Alternate companies offer equal chance of success
College Works is not the only company through which students can get a head start on a career in sales or entrepreneurship.
College works claims they pay for most of students expenses, like insurance, equipment, marketing and the trainings the intern attends. They take 40% cut off the interns' revenues, which is where the money comes from to pay themselves and insurance. Out of the 60% the interns keep they have to pay their employees, pay back the their line of credit to the company, and any other 'business expenses' that come along.
Whitewater resident Dequonne Jackson said he learned the same skills and talents that are achieved through College Works through an alternative, less expensive route.
Jackson said he stumbled – by mistake – upon a private business reception hosted by representatives from Kyani, an international company selling natural health products. He was "blown away" by the presentation, and decided to become involved in the company.
Jackson was involved in several other sales companies prior to joining Kyani, and he said that, in general, many companies have unsuccessful mentorship programs.
"There's a lot of opportunities out there – some good, some bad, others are OK – but people must understand the opportunity they're going into," Jackson said. "People want to get rich quick, but they don't take the time it takes to learn certain vital skills. That's why 50 percent of businesses fail in the first three years."
The key to succeeding in environments where an individual is responsible for their own sales profits depends on one's level of personal commitment.
"There are some people who will be successful, and some won't," Jackson said. "It's hard to say whether people will be successful at particular things."
Jackson added that "success requires a developmental mindset, and it depends on how you perceive your experience." In his view, seeking personal growth is the most important aspect.
"You sometimes have to be willing to do the things most people don't want to do in order to live the way that most people dream," Jackson said.
Jackson advises students to find a mentor who can advise them on how to advance their interests and goals.
"We all have a piece of the puzzle to success," Jackson said. "Some people just need that push."
According to the College Works website the intern is in charge of all the heavy lifting, but gets limited control over the pay off, "the way we operate is actually pretty simple: as soon as a client pays the intern for completion of a paint project, the intern is to send the payment to the corporate office in California, where all monetary transactions are completed and documented."
So the intern is in charge of every part of their business,except for their revenue stream, which is conveniently split up for them without their input.
What college works does may be considered legal, but one thing is for sure, their deceiving recruiting methods and combative marketing tactics are highly unethical and give students the wrong impression of what an internship should be offering them.
This program claims to give interns the opportunity to be an independent entrepreneur by making them part of their franchised company, which goes against the very idea of the entrepreneurial spirit.