Justin Stuppy
K-9 Unit Officer Justin Stuppy said he believes in the power of earning a degree from the University of Wisconsin-Whitewater.
A graduate of the Class of 2017, Stuppy says the university single-handedly provided him the training and education needed for a career with the City of Whitewater Police Department.
"There were several professors that ensured I was able to benefit from certain classes and programs offered at UW-W," Stuppy said.
A native of Garden Grove, California, Stuppy moved to Wisconsin because of state-crowding and the appeal of having "four seasons."
In the midst of Stuppy's academic process, he was presented with a job opportunity he couldn't refuse. In April 2014, Stuppy became a Community Service Officer within the City of Whitewater Police Department, and was later hired as a third-shift Patrol Officer in March 2015.
As a Sociology and Criminal Justice major, Stuppy was eager to get back to UW-W to receive his degree.
During his time at UW-W, Stuppy took part in the UW-W Legal Eagles Learning Community, and soon became the president of the Law Enforcement Organization.
Stuppy was assigned as the newly K-9 Officer in April 2017, a job set to take effect after he received his bachelor's degree.
With the belief in the power of progress, Stuppy said he recommends taking your time, going day by day.
"My parents always said enjoy not being an adult, you have your whole life to do that," he said. "I wouldn't necessarily go back in time and change things, but I would have not worried as much. College seems like a lot of stress at the time, but being an adult brings more stress than an exam or paper. There is no rush in life to do things, just go at your own pace and set your own goals."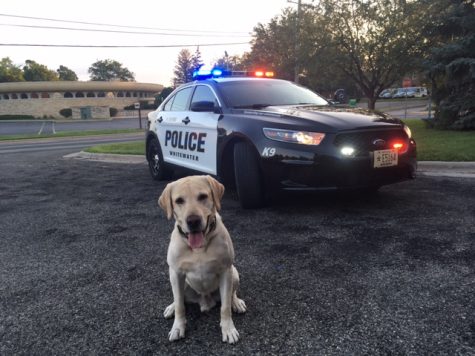 photo courtesy of Whitewater Police Department