A lifelong commitment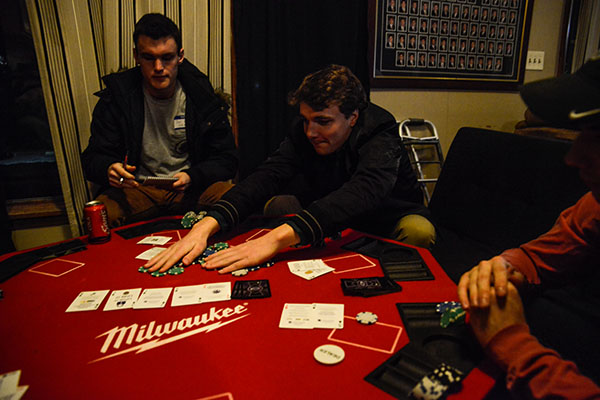 Recruitment week has ended for most local Greek chapters, but the window to join is still wide open.
Greek Life organizations on campus are always looking for new members, and with Greek Week beginning Feb. 19, local chapters of fraternities and sororities will sponsor several events to gauge students' interest in joining, Associate Director of Career & Leadership DEvelopment (CLD) Jan Bilgen said.
After initial informational sessions open to all students, the formal selection process for new members is similar to how the College of Business and Economics places students into internships: Those who express interest in joining are invited meet with a variety of organizations and take note of which chapters they  prefer, and chapters do the same. From there, students are invited to join organizations they match preference with.
"You kind of see which sorority you feel most at home," junior Mackenzie Makela said. "It's a more intimate chance to get to know the women."
Makela is the chapter president of Alpha Gamma Delta, a national organization that debuted a local chapter in Fall 2017.
Makela said chapters look for new members to have a respectful attitude, a minimum GPA of 2.7 and well-rounded qualities, such as motivation to be involved elsewhere on campus. She said chapters offer a multitude of valuable opportunities, including lifelong friendships, study sessions, community service and leadership skills.
"Greek Life has a very bad stigma, but there's so many opportunities that come with that," Makela said.
Students at UW-Whitewater take very seriously their commitment to an organization, Bilgen said, adding that she feels stereotypes are unfair to local fraternities and sororities. Commitment is "really part of their heart. It's not just four years and then done. It really is a lifelong commitment."
Bilgen said local fraternity men and sorority women teach their members how to prevent issues such as sexual assault and alcoholism.
New members don't have to be first-year students, Bilgen said. Of the 140 women who joined chapters in Fall 2017, more than one-third of them were juniors or seniors.
Each month, members are asked to pay dues to their chapter, with that money being allocated for events, trips, fundraisers, donations to community causes, T-shirts and other means that student leaders decide after consulting with all members, Bligen said. "Students have say over how that money is spent."
"You get what you're paying for," Makela said
While individual chapters do not divulge their dues to non-members, dues typically range from between $60 and $350 amongst the chapters at UW-W, Bilgen said, adding that many chapters offer payment plans to make it easier for members.
"We don't want to lose great women, so we want to make sure we're working with them," Makela said.
Students who are interested in joining Greek Life can attend upcoming events, connect directly with chapter leaders or visit the CLD office for more information.
"It's never too late to join," Bilgen said. "They're looking for new members 365 days a year."