UW-W ride eight straight wins into WIAC tourney
The No.14 UW-Whitewater women's basketball team extended its win streak to eight games with a 61-50 victory over UW- La Crosse Feb.17 at Mitchell Hall in La Crosse.
The Warhawks (22-3) used a stingy second half defensive effort to pull away from the Eagles. The team allowed 20 second-half points, with just seven of those coming in the final quarter.
"We definitely locked down and did a much better job on the ball screens," head coach Keri Carollo said regarding the team's second half defense. "That's what was hurting us early in the game."
Senior guard Malia Smith led the way offensively for the Warhawks with a team-high 17 points. Smith converted on three-of-four attempts from beyond the arc.
Smith said her offensive mindset was to just shoot the ball and hope it goes in.
"With this team it doesn't matter, on any given day anybody can score," Smith said. "Tonight was my night."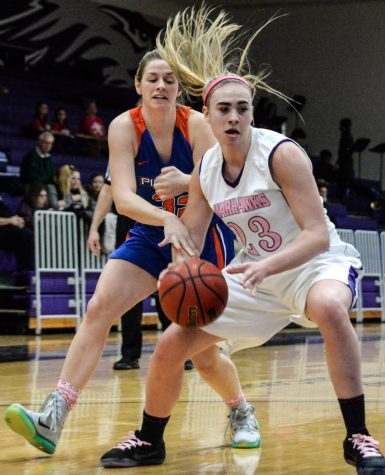 Junior forwards Sarah Schumacher and Olivia Freckmann each notched double-digit scoring performances, with 10 points and 14 points, respectively. Both tied a team-high eight rebounds.
Even though the Warhawks clinched the WIAC regular season title and the No.1 seed in the conference tournament earlier in the week, the game against the Eagles was not meaningless.
"We weren't thrilled with the fact that they beat us the first time," senior forward Andrea Meinert said. "We felt like we were the better team and we really let them get away with one. We wanted to go to their place and get a big win. It gives us a lot of momentum now; we're on a win streak, and we hopefully get to carry that over into the tournament."
Just over the halfway point of the conference schedule, it looked like the Warhawks would be in for a battle for the regular season title. With six games left in conference play, UW-W was tied for first place at 6-2, with three teams only one game back at 5-3.
The Warhawks finish with a 12-2 conference record, three games ahead of UW-Oshkosh, UW-Eau Claire and UW- La Crosse, who all ended with a 9-5 WIAC record.  
In the WIAC tournament, UW-W will take on highest remaining seed in the semifinals. The three potential matchups for the Warhawks are No.4 seeded UW-Eau Claire, No.5 seeded UW-Stevens Point and No.6 seeded UW-River Falls.
The Warhawks were 2-0 against UW-EC and UW-SP this season, and 1-1 versus UW-RF.
UW-W, who has a first-round bye and home court advantage throughout the tournament, will find out who they play following the quarterfinal matchups played on Feb.20.
The start of the WIAC tournament will not only mark a new season for the Warhawks, but also a different brand of basketball.
"You're playing teams for the third time, so everyone knows everyone's tendencies and what to expect," Meinert said. "It really comes down to an execution standpoint, who can hit shots and who can get it done down the stretch."
The Warhawks will begin postseason play in one of the WIAC's semifinal contests Feb.22 at Kachel Gymnasium.