Rehberg rebounds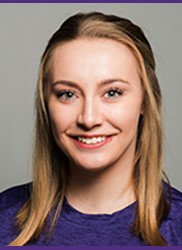 In her third sports-related injury in as many years, UW-Whitewater senior gymnast Chloe Rehberg tore her anterior cruciate ligament (ACL) but still went on to receive All-American honors the following season.
It all started when Rehberg tore her ACL during her vault warm-up prior to the home opener of the 2016 gymnastics season on Jan. 23, 2016. As Rehberg was warming up on the vaul, her "take-off" leg buckled as she approached the vault table. At the time, Rehberg felt excruciating pain in her left knee, yet she continued to compete in the scheduled event.
A couple of weeks after the initial injury, Rehberg saw no improvement from the pain in her knee. In March 2016, Rehberg underwent an MRI to determine the actual injury to her left knee and its extent of damage. The results of the MRI determined that she had torn about 90 percent of her ACL, requiring her to undergo ACL reconstruction surgery and miss the remainder of the 2016 gymnastics season.
"When the injury occurred, I actually didn't know it was torn," Rehberg said. "I thought I had tweaked my knee and that I was just having some regular pain. It wasn't until I had received the results of the MRI, did I find out that it was a torn ACL."
After the MRI result, Rehberg underwent ACL surgery to repair the tear in her left knee in March of 2016. Rehberg expressed that due to financial reasons, she could not afford to see professional physical therapists. She instead forged her own physical therapy program with the assistance of athletic trainers.
During her recovery, she worked with athletic training staff to regain her range of motion and overall leg strength.
Athletic trainer Erin Clark said she worked closely with Rehberg during her recovery period.
"Rehab started immediately after the injury, even before surgery," Clark said. "We wanted to put her into a position where she would have a successful surgery and successful rehab, so we got her very strong before surgery."
With the exception of the summer months, Rehberg continued to visit Clark and the rest of the UW-Whitewater athletic training staff until she was physically able to attempt portions of her vaulting routine around September of that same year.
Although Rehberg was physically able to start working on parts of vault routine in September, she stated that this injury was the most mentally challenging for her to overcome in comparison to her previous injuries during her time at UW-Whitewater.
She said that at times during her recovery, she would doubt her ability to recovery and ever compete in gymnastics again. She said her teammates, coaches, and athletic trainers constantly instilled motivation whenever she felt discouraged.
UW-Whitewater gymnastics head coach Jennifer Regan praised Rehberg's determination to power through adversity and get back to the sport.
"She was determined to be back the following year better than ever and she wasn't going to let her injury stop her and I think that motivated our team to continue to move forward," Regan said. "I've never met someone who does rehab the way she does. She's so diligent, it's insane… with Rehberg, you never had to keep an eye on her because she was always doing her rehab assignments."
By the first meet of the 2017 gymnastics season on Jan 13, 2017, Rehberg was ready to compete in her vaulting routine.
Throughout the season, Rehberg had both high and low points in her performance, but her perseverance is what she says allowed her to keep on competing.
"Sometimes, she didn't have the confidence that she could do the skill again. We just had to get her to believe and trust in the process," Regan said.
Rehberg would post a season high score of 9.700 on vault three separate occasions during the 2017 gymnastics season.
Eventually at the NCGA Championships, Rehberg would score a 9.550 on vault, securing her tenth place finish out of 22 competitors. Rehberg would be named as a 2nd team All-American on vault for the season.
Rehberg's current season average on her vault routine is 9.561. Rehberg recently qualified for the NCGA Individual Events Final in the vault, which will on March 24th, 2018 at Springfield College in Springfield, Mass.
The UW-Whitewater gymnastics team will travel to Springfield College to compete in the NCGA Championship as a result of finishing in 2nd place at the WIAC/NCGA West Regional.