Chem department breaks world record
UW-W now home to the world's longest functional glow stick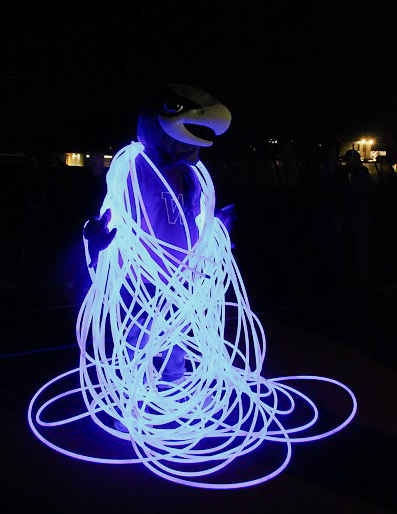 Students and faculty members in the Chemistry Department designed the world's longest glow stick Sept. 7 at Willie's Birthday Bash.
The longest glow stick was previously listed at four meters, according to the Guiness Book of World Records.
Professor Dr. John Ejnik, along with his group of assistants and students, have been working on the 150-meter-long project for roughly a year, and while it all may have looked simple, it took a great deal of time and effort from all involved.
"One thing I'm not sure everyone realizes is that we have done pretty much all of this by ourselves," Ejnik said. "The chemicals were made here, and the whole thing is physically assembled by everyone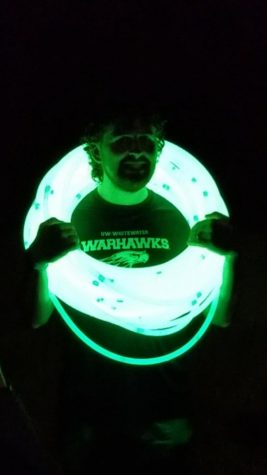 here."
Alumna Alyssa Fernandez came up with the idea in the spring of 2018 during her final semester. When Fernandez discovered the record was a four meter glow stick, she realized a new world record was feasible. She immediately started the paperwork with the Guiness Book of World Records, although that was no easy task.
"After the whole process was complete, it had been about six months," Ejnik said. "Guiness has very specific guidelines for their records, so we had to make sure we followed every guideline they set for us in order for our glow stick to be eligible."
Fernandez has since graduated, and Ejnik has employed the skills of other talented members of the chemistry department such as sophomore Ory Savchuk and Chemistry Club President senior Sura'attha Umasangtongkul. He is called Wynn in the lab.
"Ory has really been a great help to this whole project," Ejnik said. "He has worked very hard with the chemicals, specifically in just trying to make them glow — and glow with the right amount of intensity and making sure everything will go just right. Wynn has also been right alongside us the whole way through."
Both parties praised each other's work.
"We've got a good professor right here," Wynn said. "We are very lucky to have him."
Extensive effort and countless hours have gone into the creation of the 150-meter glow stick, but Ejnik wants people to remember that in the end, the project was simple.
"We've made the world's largest continuous glow stick, just like the small ones," Ejnik said. "We just stretched it out a lot farther."