There's music in the air
Paint and sound amuse in outdoor performance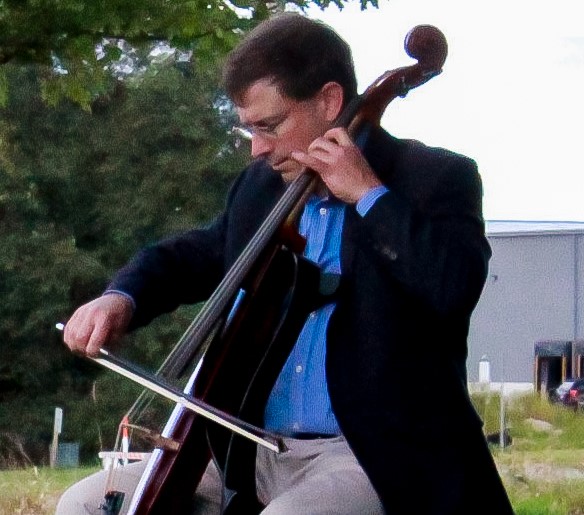 Lizzy Rost, Arts and Recreational Editor
September 20, 2020
Music professor Benjamin Whitcomb and lecturer of art and design Bethann Moran-Handzlik performed "Bach Suites for Cello" from 10-11:30 a.m. outside the UW-Whitewater Innovation Center Sept. 18 in honor of German composer Johann Sebastian Bach. 
Whitcomb gracefully strung his bow back and forth across his cello while Moran-Handzlik responded with her emotive marks of her paintbrush. She painted a green grass background with a halo of yellow sun rays circling her canvas to the rhythm of the music. Moran-Handzlik painted from observation, but this was her opportunity to try an abstract piece. As Dr. Whitcomb played cello, she felt those sound waves pour onto her canvas. 
"The engagement in the arts is deeply human, and it stimulates within us everything that calls us to something that is bigger and broader outside of ourselves," said Moran-Handzlik. "Rather if it is our thinking, our behavior, or in our aspirations – as a culture – it is the arts that calls us to civility and to social action."
Art has long engaged Moran-Handzlik. Reflecting on her childhood, she remembered her young artistic self. She was that young girl in the kindergarten classroom, who painted the cute puppy from down the street. It was her passion, as well as music. 
Before Whitcomb played the cello, he also played the bass and piano. He enjoyed those instruments, but he knew the cello was his calling. His music passion started within his family, and he's thankful for them teaching him at a young age. He later developed an interest in music theory as well. 
"I did not start learning an instrument until age 10 in fifth grade. By all accounts, my brother and I always sang throughout our youth. My parents thought we were going to go the vocal route. Instead, we ended up instrumental. And now I specialize in the cello," he said. 
Whitcomb's philosophy is that music and art are much more than just instruments or images. It is what is produced by those music notes, melodies and rhythms. It is how people interpret music, like Dr. Moran-Handzlik's painting, and what stayed in spirit.  
"With soundwaves hitting against the eardrum, you can find yourself being profoundly moved by something like that. Just like light frequencies bouncing off of something, and trying to get young students to step back a little. They need to figure out what does it mean? What does it mean, to the rest of their philosophy- to have an art? Whether it's music or the other arts. It's abstract, pretty deep, but until you get them thinking about the bigger picture, then they can think beyond music," Whitcomb said. "Otherwise, if they do not, it is almost like music is decorative art. Just something like, this room needed some flowers."
Moran-Handzlik inspires her students to take risks in their art. She encourages them to let-go, and guides them onto their own paths. She gives them the gentle push they need to move their craft forward in new and exciting ways. 
"It is like a merry-go-round, you give the first big push, and then everyone jumps off to take their turn to push.
And if I can encourage students to get off, and push everyone with us, then that is when it is really fun," she said. "You form a really tight community, and it goes back to those relationships. It is my relationship with the student, and the student's relationship with the world."
If students look beyond art and music, then they can discover the hidden sounds – the patterned sound waves from the cello's bow and the strokes of a paint brush. It is beyond art and music where the creative process lies, and students just need to discover it. 
"Sometimes it is the sound when a hammer strikes a string, and we just do not realize it. But it is all the piece s in-tune, and hand crafted with care that I like," said music student Mitch Richards. 
To experience the duo in person, Whitcomb and Moran-Handzlik will host an encore performance of "Bach Cello Suites: Visual and Aural" Tuesday, Sept., 22 from 10-11:30 a.m. at UW-Whitewater's Nature Prairie Reserve near the Williams Center.