Diversity Forum discusses Kenosha protests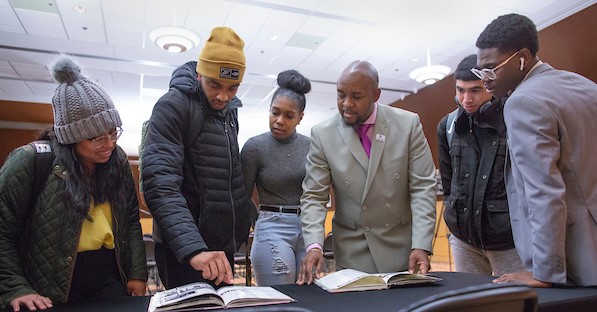 The UW-Whitewater Diversity Forum took place over four days with 10  panelists and nine events that ranged in topics such as microaggressions and experiences in the pandemic. Associate Vice Chancellor of Equity, Diversity Inclusion and Support Services Kenny Yarbrough and Assistant Vice Chancellor for Student Diversity, Engagement and Success Ozalle Toms discussed police brutality, the resulting protests and news coverage at the opening event We All Belong Here Tuesday, Sept. 29. 
Talking about issues of racism and police brutality, the killing of George Floyd sparked the serious discussion. It brought to attention that before Floyd, these types of incidents still happened often. There was a question of what made George Floyd not only affect the United States, but also got the entire world involved.
"I often wonder, was it the impact of COVID that we were so sheltered in place that we kept seeing these images, you know, manifest through the news cycle so often. This is not new. This is not a 2020 account. This has been going on for decades," said Yarbrough.
Dr. Yarbrough was referring to the George Floyd incident and how this wasn't something. It's something that has been happening to dozens of people of color for a long time now, but the George Floyd incident was the tipping point for not only America, but the world. The question everyone is asking themselves is, why? The answer just might be COVID-19.
"But there is something about the George Floyd incident that really sparked more outrage. More incidents about it. And whether that is, like you are hypothesizing there, maybe it was because we were more at home, more in tune with what was happening in the media, we saw images over and over. But we struck a nerve across the nation. In fact, across the world," said Interim Provost Greg Cook.
When discussing George Floyd and the impact it had on awareness of police brutality, the incident in Kenosha where a young white male started shooting Black Lives Matter protests came up. It was something that caused great concern to the panelists because it was so close to home here in Whitewater.
The panelists found that Kenosha got so much media coverage because George Floyd struck so much outrage. The news coverage provided a platform for people around the world to demand justice, but there was a new concern. With all the news coverage on police brutality incidents being more frequent now, the panelists questioned whether these incidents were now going to stop because now there's more awareness and more people fighting for justice.
"We are getting sick and tired of this. With the other side, it keeps happening. So it's like there is no hope, to me, that this is not going to happen. I don't see a time when a person is killed unjustly and the people who are responsible for that are not held responsible. I don't foresee that. And that part, that really hurts my heart," said Toms.
The panelists encouraged students and citizens of Whitewater to keep fighting for justice and have conversations with people who don't understand what the Black Lives Matter movement is really about.