New diversity division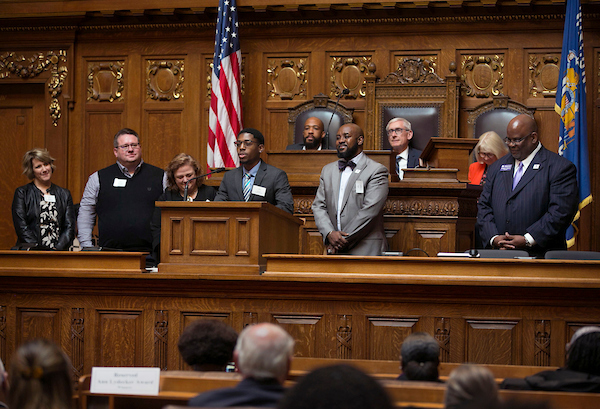 The university created the Division of Equity, Diversity, Inclusion and Support Programs to bring together resources, talents, and opportunities of diversity units that were housed in student affairs and academic affairs, which will now report to one Cabinet-level member. It will be led by Dr. Kenny Yarbrough, the division's new Associate Vice Chancellor.
"There is so much social unrest and racial discord in the nation. Our students need comfort through this discourse. This division at this time will help shepherd the institution toward becoming a more open, affirming and just place," said Chancellor Dwight Watson. "The vision for the future is for this division to be effective and efficient so that the associate vice chancellor can help the institution support students, faculty, and staff pertaining to equity, diversity and inclusion."
The design of the division is set up to take an intersectional approach to student advocacy, access and support, which is urgently needed, according to LGBTQ coordinator Stephanie Selvick.
"I think the division is important because it brings together a critical mass of equity leaders and charges them with holding campus to its equity promises," Selvick said.
Yarbrough is working with program leaders like Selvick to create a mission statement, short-term objectives and long-term goals. Once he has created a template, Yarbrough plans to invite the campus community to weigh in as well.
"We have students who fit into some of these categories where they get services from some of these departments, but you can be a student who is a part of the community who is also a member of an underrepresented minority group. You can also have a disability, and so clustering all of these services under one division allows for greater intersectionality. So students can have all of their social identity needs met," said Yarbrough. "By clustering all of these together, it gives equity, diversity and inclusion to be thought of at the forefront of things and not at the back end. And so the creation of this division allows us to be more forward thinking
instead of having to go back. Given where we are as a nation, the creation of this new division will help to address some of those social issues."
Yarbrough will get input from shared governance groups including Whitewater Student Government, Faculty Senate, Academic Staff Assembly and the University Staff Council. He seeks ideas for a collaborative effort in shaping how the division will look for the university.