Cheering for wheelchair basketball
Wheelchair basketball is a prestige sport at the University of Wisconsin-Whitewater. The sport contains the same amount of contact as able body sports, and it still creates the same type of competitive nature that make all sports a grind. Some athletes on the men's and women's wheelchair basketball teams can attest to that feeling. 
Jeremy Meyer, a player who finally made it to his dream school, is a cornerstone of the men's program and is looking forward to a successful season in his second season as a Warhawk. As well as Mandy Willmore, a nontraditional student who has come a long way in her life to be playing in her first season ever of wheelchair basketball. Both athletes have interesting stories who help lead the teams they are on by example, and they continue on a daily basis to impress their head coaches.
Jeremy Meyer horrifically had a spinal injury when he was nine years old due to being hit by a drunk driver on his bicycle, but it ultimately led him to the sport he loves. Meyer began playing wheelchair basketball in high school until he graduated, then he played collegiately in Omaha, Nebraska. Then when the school he was at dropped his major, he chose to transfer to UW-Whitewater when they were able to keep 90 percent of his credits, but before deciding to transfer it was not the first time he heard of the university.
"I have known about Whitewater since I was 12 or 13 years old, when you are younger Whitewater is the Duke or Kentucky of wheelchair basketball, so it was a dream come true to join the program and enroll into the university," Meyer said.
Meyer's dream had come true playing at the school he dreamed of playing at, and feels he has found a place he belongs. 
"I get recognized by other students and professors from being on the team here, and I have more of a sense of belonging here than at my previous school. I love being a part of the team, as it helps out socially to help you belong to something and relate with others." Meyer said.
Meyer also enjoys the drive of the sport everyday and is one of the most important players on the men's team. Head coach A.J. Messmer enjoys the company of Meyer on an everyday basis and is thankful to have him a part of the program.
"He is a great kid, you can always rely on him to be where he needs to be, and he always has a great attitude. I have known him for a while and he always has been a great kid, and he is someone you want to build your program around. Also Jeremy is one of the top players in the division and his great attitude leads to even better leadership," Messmer said.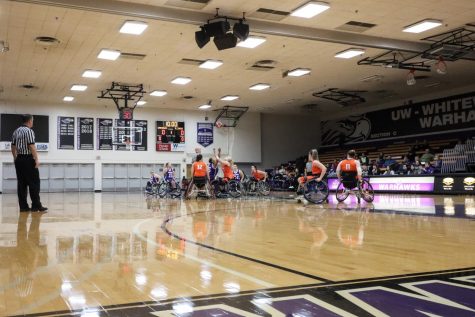 While Jeremy has had a dream come true on his journey to land on the men's wheelchair basketball team, Mandy Willmore has had a long journey as well to land on the women's wheelchair basketball team.
Mandy Willmore is not a traditional student, as she received her undergraduate degree eight years ago and planned to play wheelchair basketball at UW-Whitewater for the past two years, but in the meantime Mandy was restructuring her life to get where she is now. Willmore spent her first two years of her undergraduate playing able body basketball at the School of Mines in South Dakota, until unfortunately she was paralyzed from a spinal injury in 2010. While being in the hospital she was first told about the sport of wheelchair basketball, but her interest did not come for a little bit longer down the road.
"A retired paralympian I met two years ago told me about the wheelchair basketball program at UW-Whitewater, and then let me use her old chair which led me to where I am now. I am fairly new to wheelchair basketball, but my passion for basketball has always been there," Willmore said.
Willmore is in her first year of the sport of wheelchair basketball but continues to improve in practice everyday.
"I am starting to feel a lot more comfortable, and I just am continuing to improve my chair skills as my dribbling and shooting is still pretty good from the past, so I am glad I improved a lot but I have a lot more to go," Willmore said.
Head coach Christina Schwab of the women's wheelchair basketball team, is a former wheelchair basketball star herself and loves to be able to give back to the sport that has done so much for her. For Schwab that has led to being honored to coach such a bright player in Mandy.
"She is diving head first into the sport, as she is a sponge and wants to be the best she can in the classroom, on the court and as a teammate. It is a breath of fresh air to have someone like that on your program, and someone who wants to learn and put her whole heart into it. The sky's the limit for her, and she is a baller so I am excited for her," Schwab said. 
Jeremy Meyer and Mandy Willmore are two bright spots in the programs of wheelchair basketball at UW-Whitewater. Both athletes continue to be great leaders for both teams and show how important it is to recognize sports that are for people with disabilities as well because no matter what the sport is the competition is always there and there are great athletes all around in every sport.